World Championships 2017 cash shortfall: Norwegians crowdfunding to help Bergen
After organisers of the 2017 World Championships in Bergen announced a cash shortfall, thousands of Norwegians have donated via crowd-funding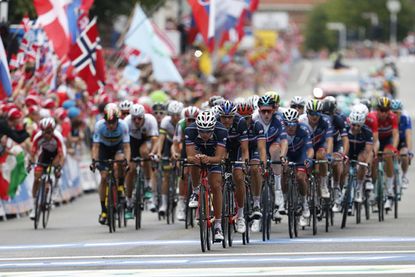 (Image credit: Yuzuru Sunada)
The Norwegian people have come to the aid of the organisers of the 2017 UCI Road World Championships, after a significant cash shortfall was reported.
Just a few days after the 2017 Worlds concluded in Bergen concluded on Sunday, September 24, the Norwegian Cycling Federation, Norges Cykleforbund, revealed that the event had run over budget.
However, the Norwegian people – and particularly those of Bergen – have rallied to ease the shortfall by making spontaneous donations.
"We in Bergen 2017 are completely overwhelmed, humble and proud of the Norwegian people his commitment to the bike world championships formidable action initiated by the people himself, it flows in with contributions from the whole country and we have now gotten in almost 3 million (Norwegian Kroner)," read the Facebook page for the 2017 Worlds.
"This is so special and we think we'll never experience anything similar-a small country with an amazing big commitment."
The organisers later posted bank details so that anyone wishing to donate could do so directly. At time of writing 'thousands' are reported to have made a donation from all over Norway.
According to local newspaper Bergens Tidende (BT), president of the Norwegian cycling federation Harald Tiedemann Hansen said that the event cost in the region of NOK 220 million to stage, exceeding the NOK 156 million budget.
Some of the shortfall is thought to be attributed to a weakening of the Norwegian currency against the Euro since the Worlds were awarded to Bergen, so the budgeted fee paid to the UCI for hosting the championships increased.
"It's demanding to host a World Championships, but the public has been fantastic," Hansen told BT. "I hope those who have any influence can see that this has been a fantastic promotion of Bergen, of Western Norway and the whole country, and that they won't let the cycling federation bleed afterwards."
A press conference is due to be held in Bergen on Thursday afternoon regarding the deficit, BT reports.
Thank you for reading 20 articles this month* Join now for unlimited access
Enjoy your first month for just £1 / $1 / €1
*Read 5 free articles per month without a subscription
Join now for unlimited access
Try first month for just £1 / $1 / €1