WORLD CUP DAY ONE SUMMARY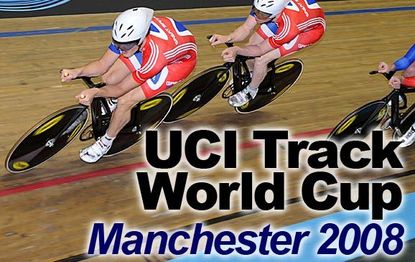 British riders reeled in an astonishing haul of five gold medals in seven events at Manchester Velodrome tonight.
If the British team had a Beijing hang-over they did well to hide it.
The wins came from both the Beijing big shots and the new kids on the block who showed little restraint as they snapped at their compatriots? heels.
Remember, in particular, the names of Lizzie Armitstead and David Daniell.
Without getting too carried away, Armitstead delivered a comprehensive win in the points race that was reminiscent of the Dutch star Marianne Vos. She won the first and third sprints to set up victory in race utterly dominated by the four British riders in it. Riding for Team 100% Me, Armitstead was a convincing winner, ahead of Great Britain?s Lucy Martin and another Team 100% Me rider, Katie Colclough.
Daniell, the youngster from Middlesbrough, turned in an extremely impressive time of 1-01 to win the kilometre time trial at the end of a night which conjured memories of the World Championships in March, and foreshadowed the possibility of a brilliant Olympic Games in London in 2012.
Cycling has well and truly arrived. The evening was a sell-out, and the presence of ticket touts in the streets leading up to the velodrome said much about the status of the sport in this country now.
Olympic silver medallist Wendy Houvenaghel kicked off proceedings as she turned out a world-class time to win the women?s pursuit. She matched her time of 3-28 to crush the rest of the women?s field and in the end took a comfortable victory.
Jo Rowsell, herself a member of the world champion team pursuit squad, took the bronze medal.
Victoria Pendleton (Sky+HD) was also well ahead of the opposition. The field here may not be the best in the world, but the Brits aren?t the only team having to pick themselves up after the high of Beijing. Pendleton, though, was imperious, brushing past Britain?s Anna Blyth in the semi final and beating Chinese girl Lulu Zheng with consummate ease in the final.
Ed Clancy, riding only his second individual pursuit at this level, won comfortably too. His time of 4-20 would have put him in the mix of the medals at the Olympics this summer, but served to show the strength in depth in the team. We know he?s probably the finest team pursuiter in the world, now he?s a factor in the solo race.
Jason Kenny (Sky+HD) was beaten very narrowly by Frenchman Francois Pervis in the Keirin.
Bradley Wiggins made a surprise appearance in the scratch race and ignited it at key points. However, Dutchman Wim Stroetinga won by taking two laps on the finish. Luke Rowe of Team 100% Me was fourth.
It meant British riders ended day one with a total of five gold, two bronze and two silver medals. It was a Beijing-style domination that thrilled the capacity crowd.
RESULTS
Men?s Keirin
1 Francois Pervis
2 Jason Kenny (Sky+HD)
3 Teun Mulder
Women?s individual pursuit
1 Wendy Houvenaghel (GB)
2 Tara Whitten (Canada)
3 Jo Rowsell (Team 100% Me)
Women?s points race
1 Lizzie Armitstead (Team 100% Me)
2 Lucy Martin (Great Britain)
3 Katie Colclough (Team 100% Me)
23 Alex Greenfield (Great Britain)

Scratch race
1 Wim Stroetinga (Netherlands)
2 Tim Mertens (Belgium)
3 Martin Blaha (ADP)
4 Luke Rowe (Team 100% Me)
7 Bradley Wiggins
Men?s individual pursuit
1 Ed Clancy (GB)
2 Vitaly Shchedov (Ukraine)
3 Valery Kaykov (Lok)
Women?s sprint
1 Victoria Pendleton (Sky+HD)
2 Lulu Zheng (China)
3 Kyubov Shulika (Ukraine)
4 Anna Blyth (GB)
Men?s kilometre
1 David Daniell (GB)
2 Yevhen Bolibrukh (Ukraine)
3 Kamil Kuczynski (Poland)
Victoria Pendleton
Craig Maclean
Jess Varnish
Wendy Houvenaghel
Anna Blyth contemplates
Anna Blyth
Bang!
Photos by Andy Jones
MANCHESTER TRACK WORLD CUP 2008 LINKS
NEWS/REPORTS
World Cup day one summary
How to spot the British riders at Manchester
British under-23 team gets ready for Manchester world cup
Sky+HD track team officially unveiled
Clancy for individual pursuit at Manchester World Cup
Chris Hoy scholarship programme launched
Kenny ready for race action in Manchester
British Cycling celebrate success at gala dinner
EVENT GUIDE
Manchester World Cup preview: Who's riding for Britain ? and in which event?
CW's Dummies' Guide to track racing ? We explain how track racing works
Every major track result of the 2007-2008 season World Cups, World Championships and Olympic Games
PHOTOS
Wednesday's track training session
Cycling Weekly photo gallery homepage
EXTERNAL LINK
Manchester Track World Cup official site for full details of the race programme
Thank you for reading 20 articles this month* Join now for unlimited access
Enjoy your first month for just £1 / $1 / €1
*Read 5 free articles per month without a subscription
Join now for unlimited access
Try first month for just £1 / $1 / €1