Hello and welcome to our live blog of stage 20 of the Giro d'Italia. This mountain time trial up Monte Lussari was always billed to be the final climactic showdown in the race for the pink jersey, and that it has turned out to be, as Geraint Thomas, Primož Roglič — and possibly João Almeida — all do battle with just seconds still separating them.
Key updates
10:30 - Giro stage 20 begins
14:41 - Dygert win stage 2 of RideLondon Classique
16:14 - Thomas sets off
16:49 - Roglič slips chain
17:00 - Roglič wins stage, takes overall lead from Thomas
Refresh
Nicolas Dalla Valle of Team Corratec-Selle Italia (the rider in last place on GC) was the first rider to set off today, rolling off the ramps at 10:30 BST. The riders will each set off in reverse order of their position on GC, so Thomas, Roglič and the other riders hoping to seal finishes in the top 10 on GC won't set off 'till near the end of the stage.
Mark Cavendish is also out on the road already, and looks content, smiling on the starting ramp and waving to the fans on the opening straight. His big day comes tomorrow, where he will try again to a sprint stage on what will be his last ever day at the Giro d'Italia.
Nicolas Dalla Valle is the first rider to finish, reaching the top of the climb with a time of 55-03. We can expect the GC men and stage win contenders to go many minutes quicker.
Filippo Fiorelli (Green Project-Bardiani CSF-Faizanè) has set the new fastest time, completing the course in 50-35, 2-28 quicker than the second-best ride so far by young Brit Charlie Quarterman. Interestingly, Fiorelli chose to use a road bike for the whole course, rather than switch from a time trial bike to road bike before the climb as the other riders are doing.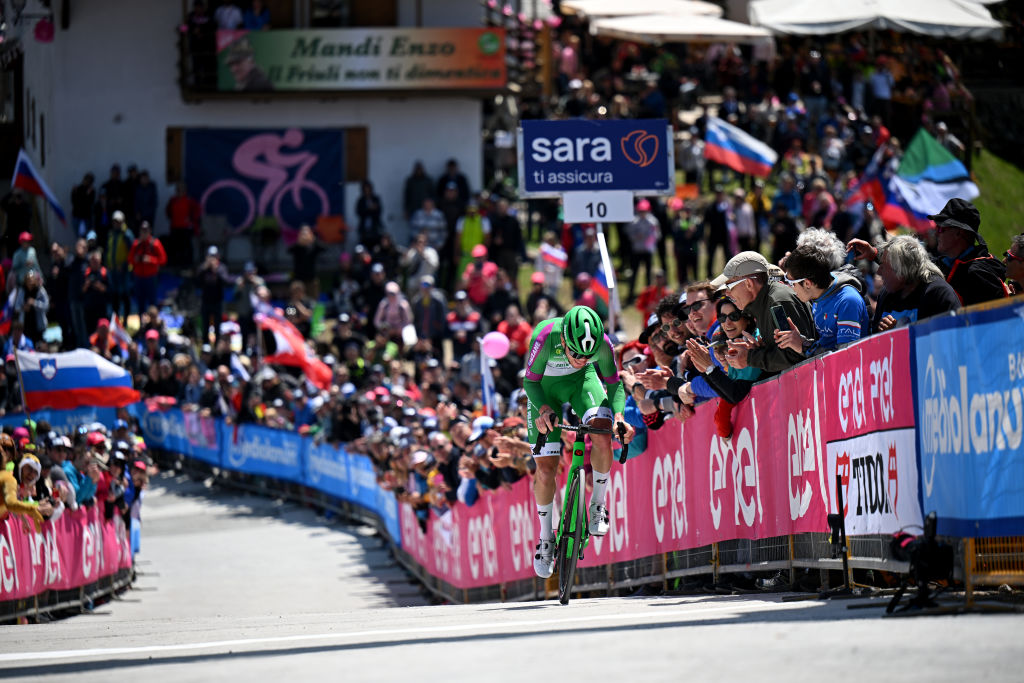 Here's Fiorelli completing the last few metres of the climb. As you can see, the gradients are pretty monstrous, and a huge crowd has turned out to see the climax of the race for the pink jersey.
We hope a revolving door is installed in and out of the hot seat, as the best time has changed several times in the last few minutes. First Alex Kirsch bettered Fiorelli's time, then Stephen Williams put 17 seconds into his time, and now Thibault Guernalec has set an even faster time. Guernalec's time should last longer, though, as at 48-35 it's substantially quicker than anyone else so far.
There will now be a break in the action. The time trial has been split into three sections, and Pascal Ackermann was the last rider from the first batch to complete his ride a few minutes ago. The next rider will commence at 12:50.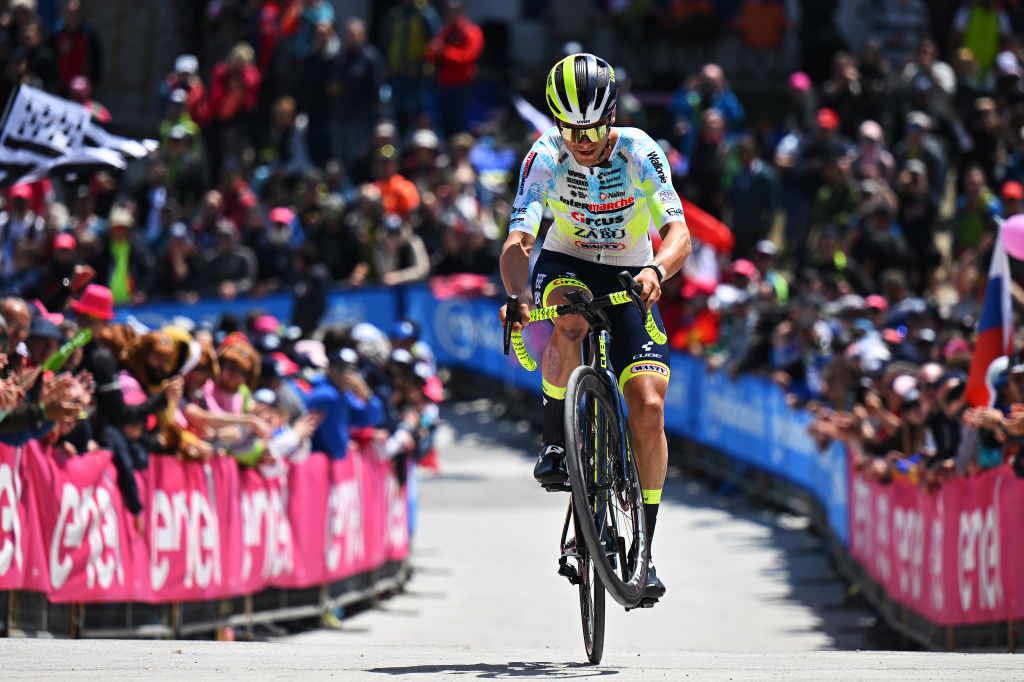 It's fair to say that not every rider has been putting their all into this time trial — here's Laurenz Rex pulling a wheelie as he nears the finish. For these riders not in contention for a high GC finish, today almost feels like the final celebratory stage, with a significant time limit of 50% meaning the riders don't have to fear being timed out of the race.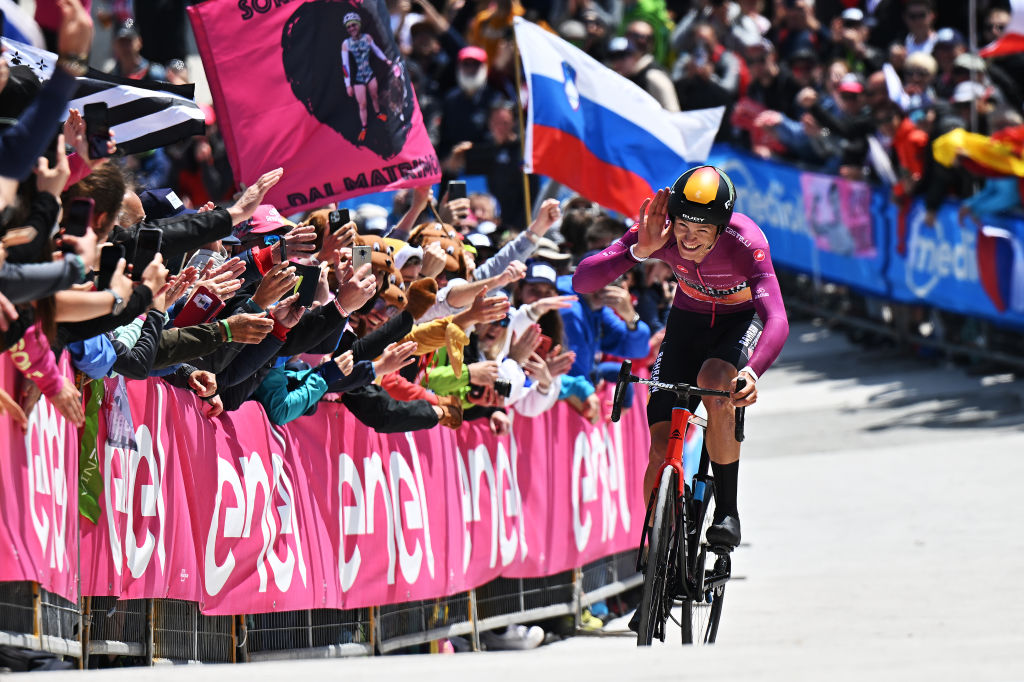 And we're off again! José Joaquín Rojas has just set off to begin the second wave of riders
The nature of the time trial, with such a brutally steep climb in its second half, has meant that many time trial specialists who were in contention for the stage wins in the stages against the clock earlier in this Giro haven't been so this time around. That might be different for time trialists who can climb, though — including Michael Hepburn, who's out on the road now and who surprised everyone with the way he rode in the Dolomites yesterday.
Salvatore Puccio is on the road now, the first of the five Ineos Grenadiers riders left in the race. He might not be able to directly aid his leader Geraint Thomas today, but will still have a role to play as he recces the course and reports back.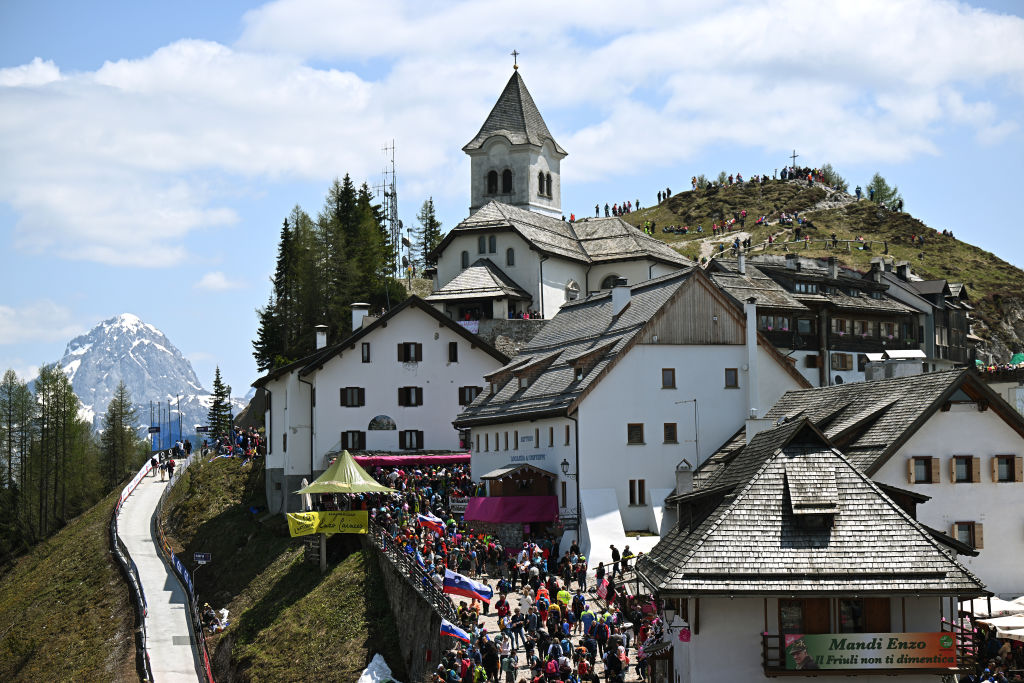 It's in danger of being overshadowed by what's happening here at the Giro, but a reminder that the RideLondon Classique is continuing today with the second of three stages. It's a flat pacours out and back from Maldon, so Charlotte Kool has another chance to sprint for victory and defend her lead.
Ben Healy is on another big day it seems. He's gone through the first intermediate time check with the best time, 13 seconds quicker than Jasha Sütterlin, who himself reached the point four seconds quicker than Guernalec a little earlier.
However, Healy's time has just been smashed by Will Barta, who's gone 22 seconds quicker. Will these riders be able to keep up this pace on the climb?
Britain's Thomas Gloag has just arrived at the finish with the second fastest time, but he's celebrating as if he'd just won the stage. The 21-year-old is clearly delighted at having now completed almost all of his debut Grand Tour, having only been called-up to ride by his Jumbo-Visma team at the last minute.
There's a new leader in the clubhouse — Thomas Champion, who's just bettered Guarnalec by 19 seconds. He must have flown up that climb, as he wasn't anywhere near the top of the standings at the first intermediate check.
In stark contrast to many of the other riders who have taken it easy today, Michael Matthews has put everything into his ride, setting the second quickest time at the finish. He even had to dismount and sit on the floor after he crossed the line. He has no chance of winning such a mountainous time trial, and is too far adrift from Milan to take the maglia ciclamino, so we can only imagine he's riding for pride.
Now here's a turn up for the books. Grand Tour debutant and neo-pro Matthew Riccitello has just obliterated Champion's time, putting a whopping 1-57 into it. Where did that come from? He'll likely be on the hot seat for a while with that time.
After setting such quick times at the first intermediate check, both Ben Healy and Will Barta slowed down on the climb, finishing third and seventh fastest at the finish.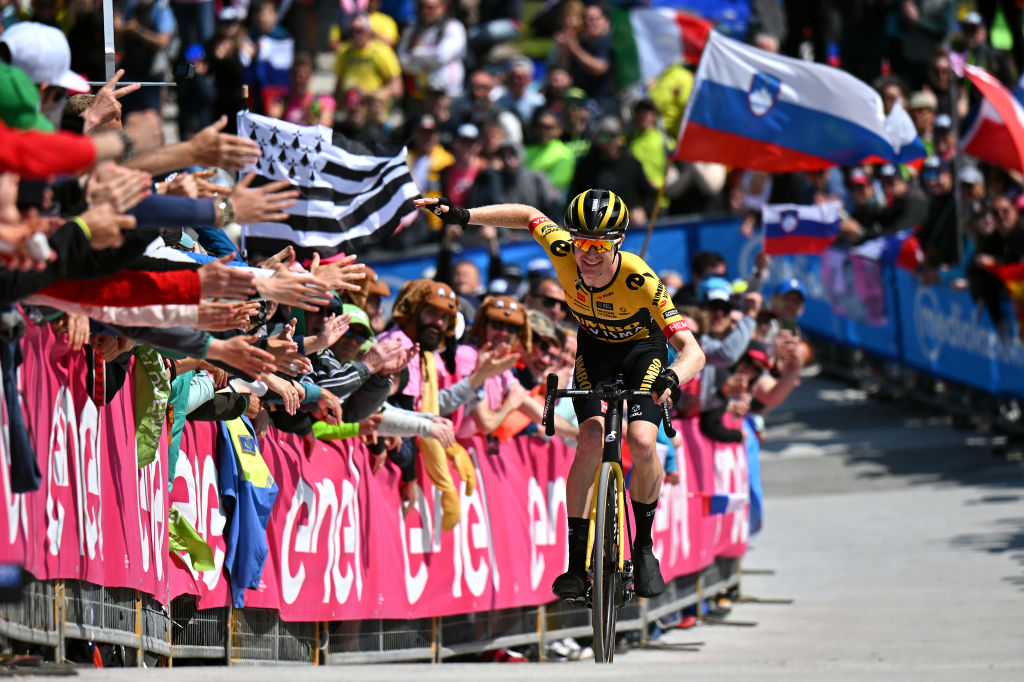 Israel Premier-Tech have been trying desperately to win a stage all Giro, with Marco Frigo and Sebastian Berwick both managing third-place finishes during the second week, and everyone's new favourite rider Derek Gee placing runner-up four(!) times. Surely Riccitello won't be the man to finally deliver them one once the GC men take to the course?
That's it for now, as Edoardo Zambanini's arrival at the line marks the end of the second batch of riders. The time trial will commence with the final third of riders starting to set off from 15:05 BST.
The second stage of RideLondon Classique has just finished, and it was a dramatic one. Chloe Dygert came out on top to win her first on the road since 2021, completing her long comeback from the injury and fitness problems that have plagued her for years.
She won after her Canyon-SRAM teammate Maike van der Duin was caught in the final kilometre, and after a late crash took out half of the reduced peloton, including race leader Charlotte Kool. As the crash finished within the final 3km, Kool does at least retain the overall lead.
And we're off again! Bob Jungels rolls off the start ramp to kick off the third and final phase of the time trial, where the winner of the Giro d'Italia will be decided. Nervous? It's likely to be a thriller.
Right now it's the riders between 40th and 20th on GC out on the road, and Jay Vine is the man impressing the most. The Aussie has gone through the first intermediate time check with the quickest time.
So not long now then until the pink jersey contenders are on the road: 16:11 for Roglič and 16:14 for Thomas, to be precise. And it feels like a classic Grand Tour stage in the making.
It's almost as if a narrative has been ridden for Primož Roglič to achieve redemption today. Three years ago, the Jumbo-Visma rider famously lost the Tour de France on a penultimate stage mountain time trial, when he was stunningly usurped by compatriot Tadej Pogačar on La Planche des Belles Filles. Now, he has a chance to do the same thing to Geraint Thomas, with the extra incentive of doing so in-front of his Slovenian fans, many of whom have flocked across the nearby border to cheer him on.
It's not as if Geraint Thomas doesn't have his own demons to exorcise today, however. Before this year, his past Giro d'Italia visits had been characterised by frustration and ill-fortune, with him abandoning in both 2020 and 2017 when among the top pre-race favourites for overall victory. Nothing has gone wrong for him during this Giro d'Italia so far, so he'll be desperate to overcome this final hurdle to seal the pink jersey.
And we can't discount João Almeida just yet. The UAE Team Emirates rider lost some crucial seconds yesterday, but remains just 59 seconds behind Thomas, and has a habit of clawing himself back into contention just as all hope seems lost.
As for the riders already out on the road, Jay Vine was quickest again at the second intermediate check, but has just been bettered by his UAE Team Emirates teammate Brandon McNulty. A good sign for their team leader Almeida, perhaps?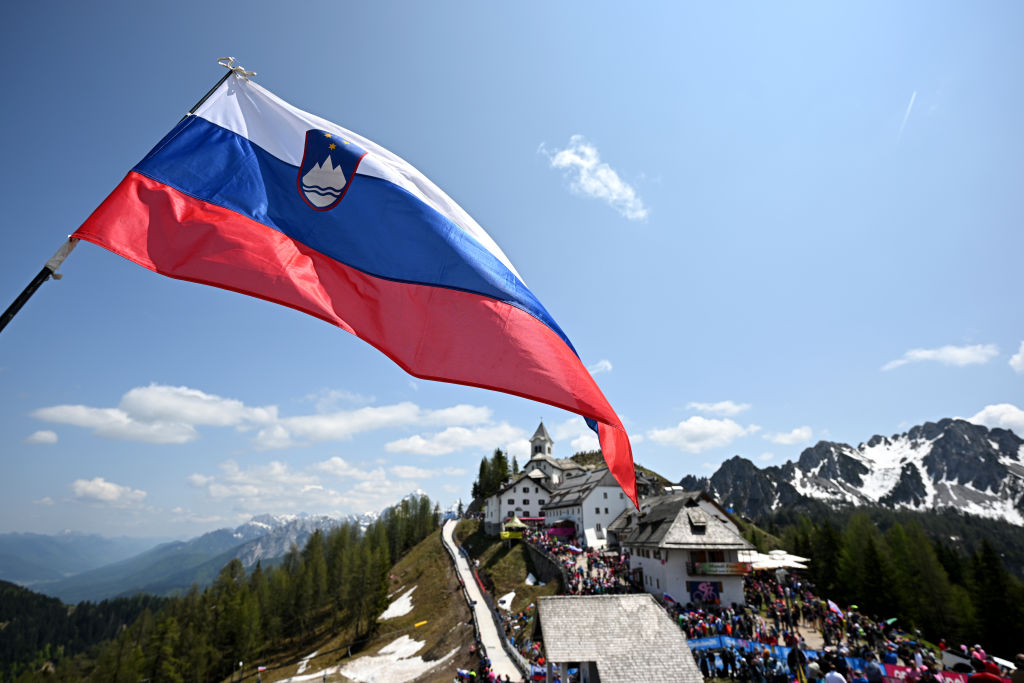 The riders further down the top ten have been rolling off the start ramp one-by-one. First Laurens De Plus, then Andreas Leknessund, then Lennard Kämna, with Thymen Arensman poised to go next. Our focus will be on who wins the pink jersey, but these riders have plenty to fight for to seal as high a rank as possible, with big gaps possible on such a testing time trial.
Jay Vine is approaching the line, closing in on Riccitello's time...and he's beaten it! Vine is the new leader in the hot seat.
Vine's not in the hot seat for long though, as Brandon McNulty storms to the finish to smash his teammate's time by 46 seconds. That might even be good enough to contend for the stage victory, depending on how tired the GC men are.
Eddie Dunbar is off. He slipped down to fifth yesterday after losing some time on the final climb, and is now in danger of slipping further down the classification. Thibaut Pinot lurks just 17 seconds behind and Arensman, who is a very good time trialist, only has 20 seconds to make up.
What did the UAE Team Emirates riders have for lunch? Their riders are all having sensational days, with Diego Ullissi registering the fourth fastest time at the finish to join Vine and McNulty at the top of the stage classification.
Now it's time for João Almeida! He's off, resplendent in the white jersey as the race's best young rider. Can he possibly switch that jersey for pink?
Here goes Roglič, and there's a huge roar from the crowd as he sets off! He's riding against the backdrop of multiple Slovenian flags. Can these cheers help push him to overall victory?
Now, finally, the pink jersey is on the road. Thomas has ridden the perfect race so far, but this climb is an absolute monster, and he has little time to play with. This is one of the biggest days of his whole career.
What do the big three's performances in the race's previous two time trials tell us about their chances today? Well, Almeida was the fastest of the three in the opening stage, 14 seconds ahead of Roglič and 26 seconds ahead of Thomas. But then in the second time trial the order was reversed, with Thomas coming out on top with Roglič 16 seconds slower and Almeida 34 seconds adrift. So, in short, it's anyone's guess who will go best today.
Sepp Kuss has arrived at the finish, and has set a brilliant time, beating McNulty's benchmark by just two seconds to become the new leader in the hot seat. He's made the most of the rare stage where he's riding solely for himself.
The times are getting faster and faster with the top GC mean on the road. Fourth overall Damiano Caruso has just set the quickest time at the first intermediate check. Next up is Almeida…
…and Almeida is on a flyer! He sets the fastest time so far, 3 seconds faster than Caruso.
It's hard to overstate just how many Slovenian flags can be spotted on the roadside. The white, blue and red colours are accompanying Roglič virtually every metre of the road. He's just made a successful bike change onto his road bike, and will be next through the time check.
Roglič is through the time check, and it's a good one! Four seconds quicker than Almeida. Now we wait for Thomas.
Thomas has just made his bike change, and looked very relaxed. He also decided to switch helmets, which will have cost him a few seconds. Clearly Ines think it's worth it in the long-run, but those few seconds might give Roglič a boost when Thomas' first time check is announced imminently.
Thomas is through, and he's two seconds behind Roglič! Roglič will take the psychological advantage, but he still needs much more time if he's to take the pink jersey. Right now, Thomas is looking well set to defend it.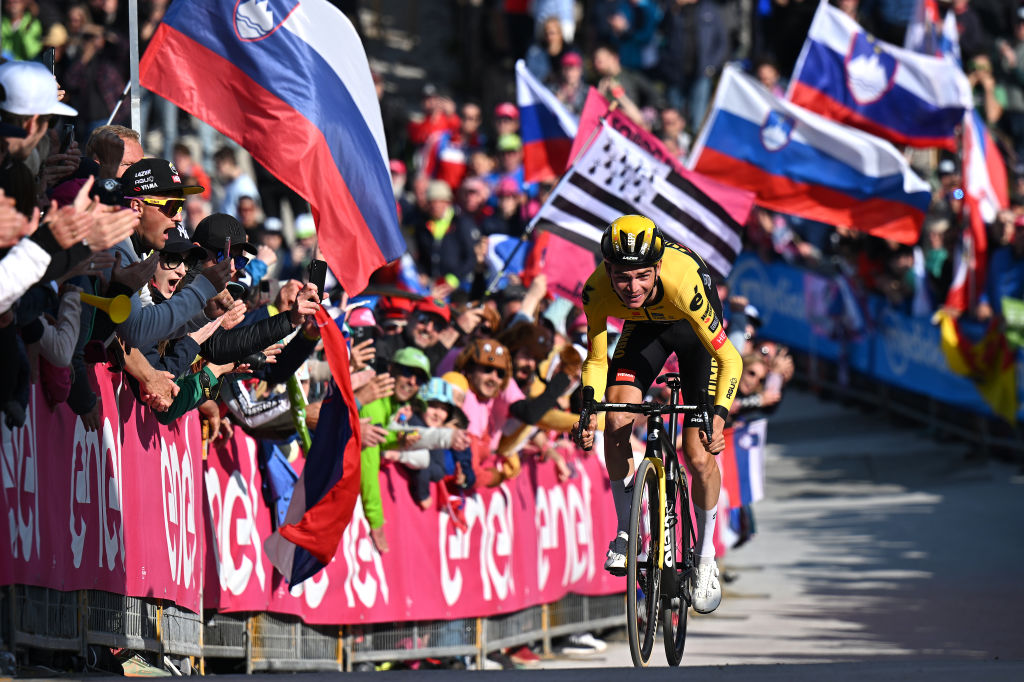 The first rider in the top 10 of the GC, Laurens De Plus, has just reached the finish. He's successfully defended his top ten finish from Einer Rubio.
Now Leknessund arrives at the finish line, and sets the third fastest time. That means he comfortably defends his ninth place, and might even more up a little.
According to the live GPS updates, Roglič is currently 7 seconds quicker than Thomas. These updates aren't always 100% accurate, but if true, Roglič still has a chance here.
Lennard Kämna was 8th at the finish, meaning he'll fall behind Leknessund on GC. And now Thymen Arensman arrives with the third quickest time. He could also be about to move up.
Almeida has just gone through the second intermediate check with the joint-best. It's a very good time, but it isn't going to be enough to threaten the pink jersey.
Thibaut Pinot's ridden the time trial of his life! He bests Kuss' time at the finish to become new leader in the hot seat. That secures a top six finish, and puts him in contention for fifth — and maybe even the stage win.
Forget that! Roglič has obliterated his and the others' time at the second intermediate check by an enormous 32 seconds. He might be on the brink of doing something very special.
Oh no, disaster strikes for Roglič! He slipped his chain after hitting a pothole, and had to spend several seconds getting going again. That might just lose him the pink jersey.
Meanwhile Damiano Caruso has just ousted Pinot in the hot seat, posting a time 4 seconds quicker than Pinot. With Roglič's mechanical that might yet be enough for the stage win.
We're still waiting for an update on Thomas' time. Last we heard he was about 14 seconds adrift, but that was before Roglič's mechanical.
João Almeida arrives at the finish now…and it's the best time by far! 13 seconds quicker than Caruso. He flew up the final kilometres of that climb.
Now we wait for Primož Roglič. Has he been able to keep himself in contention for pink, or did the mechanical totally deflate him?
The GPS is saying the gap on the road between Roglič and Thomas is still 15 seconds, which would leave him with just 11 more seconds to make up. It's not over yet…
Roglič sets the fastest time with a huge ride, 42 seconds ahead of Almeida!! But is it enough for pink? We'll know in just a few minutes.
Remember, Thomas started the day with a 26 second advantage over Roglič.
Thomas is looking laboured, spinning a big gear. And it appears to be slipping away from him - the GPS is reporting a gap of 36 seconds. That would be enough for Roglič to take pink
The seconds are ticking by, and Thomas is running out of time…
That's it, Thomas has reached the line, and he's 40 seconds behind Roglič. That puts Roglič into the pink jersey, by 14 seconds! Extraordinary drama here at the Giro d'Italia.
We'll have the full stage write-up shortly. There's a lot to digest — you couldn't have scropted a more dramatic end to this Giro d'Italia.
Thanks for joining us today. Read more about that historic stage of the Giro d'Italia here, and come back tomorrow where we'll take you through the final stage of the race.
Thank you for reading 20 articles this month* Join now for unlimited access
Enjoy your first month for just £1 / $1 / €1
*Read 5 free articles per month without a subscription
Join now for unlimited access
Try first month for just £1 / $1 / €1