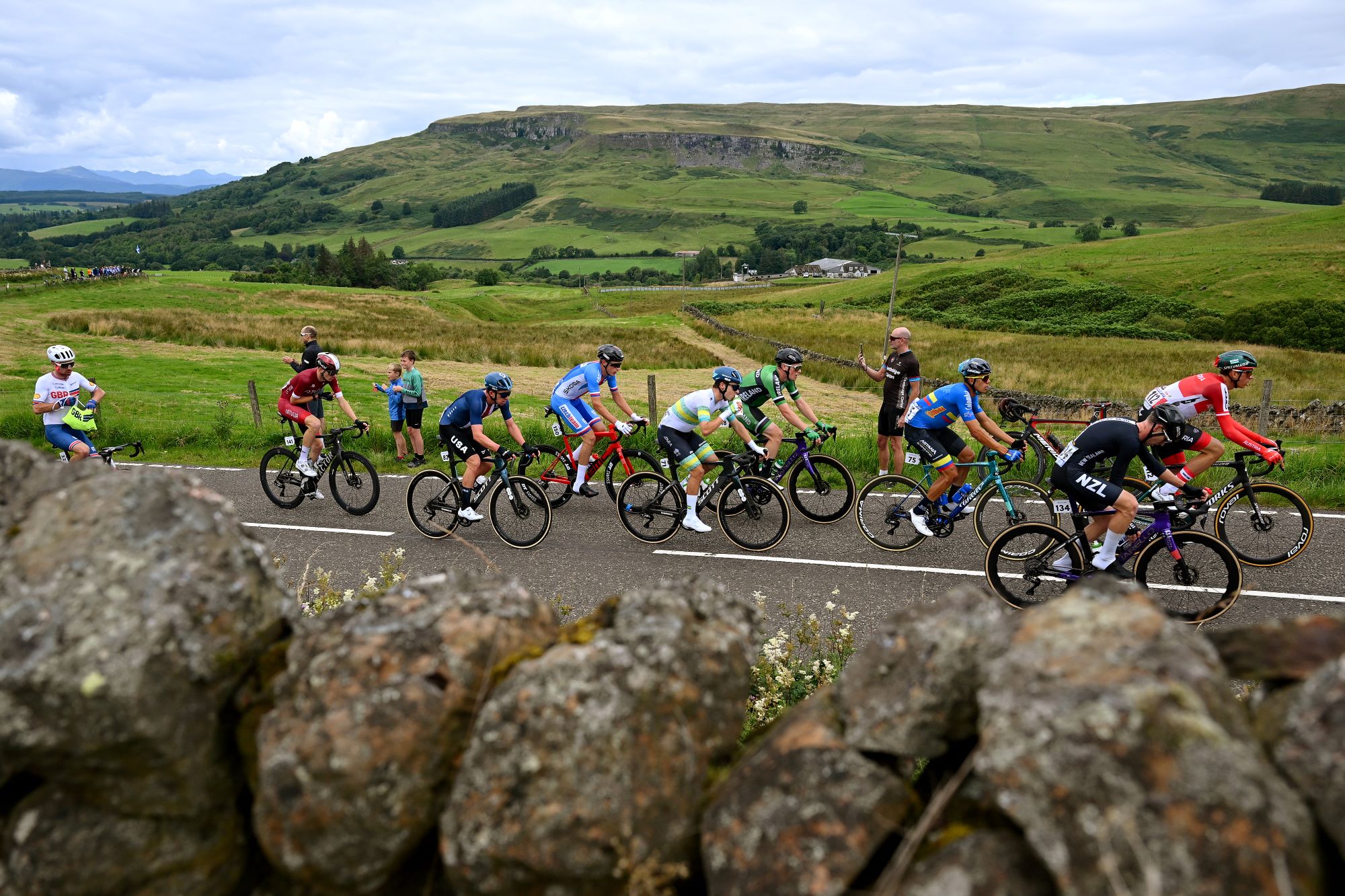 It's a long day in the saddle for the peloton in the UCI World Championships Elite Men's Road Race. Already the race has been interrupted by a protest and plenty of riders have gone out the back with many kilometres to go
Refresh
163.8km to go
The peloton is 5:11 behind the breakaway and being led by determined looking Belgians
161.8km to go
Owain Doull is marshalling the breakaway to keep everyone pulling through
161.0km to go
Fernando Gaviria is down after a crash on a bend. He was holding his face and now his shoulder. A teammate had waited but has ridden off. The race appears to be over for Gaviria
A young rider is keeping up with the peloton, albeit for a few hundred metres, safely placed the other side of a grass bank beside the road
The road surfaces look really good, but there have still been a number of punctures. Riders getting back on the rear of the peloton after wheel changes
Huge crowds out to see the race. Waving the breakaway through with an advantage of 5:00 with 152.7km to go
149.6km to go
Lucas Plapp from Australia looks to be done. He'd been working hard on the front
148.4km to go and the breakaway's gap is down to 4:25
They've lost a lot of time over the last couple of kilometres
147.6km to go
Denmark are pulling on the front trying to get a group clear with Michael Morkov riding for his team leader Mads Pedersen
146.4km to go
It looks like Sam Bennett's race is over. He was shown going at walking pace as the peloton disappeared ahead of him
We're now well into the Glasgow circuit. Corners, twists, turns, ramps, road furniture... riders need to stay alert
143.5km to go
Owain Doull leads the peloton through the flamme rouge to head for the finish line ahead of 10 full laps of the circuit
140.1km to go
The peloton is very strung out. Denmark and Belgium are grouped at the front but other riders, such as Mathieu van der Poel (NL), appear more isolated
137.5km to go
Denmark's Mikkel Bjerg had a wheel change on a steep ascent and has now abandoned, perhaps unable to get back to the fast moving peloton
A Dutch rider has crashed, it did not look like MvdP
135.4km to go but the way the peloton is hammering around and out of corners you might think it was more like 3.5km to go
Lukes Durbridge and Plapp have pulled off the course, reducing Australia's representation in the peloton
134.1km to go
Attack from Julian Alaphilippe. Allez Julian!
Crash further back on the steep ascent; it looks like everyone's up and riding
133.3km to go
Denmark's Søren Kragh Andersen is on Alaphilippe's wheel. Belgium chasing
Splits all the way down through the peloton
Norway and Italy now chasing
128.0km to go
The peloton has gone through the finish line to start the next lap, Victor Campenaerts is leading the peloton
125.0km to go
The peloton is group 3 on the road as the counter move is still dangling ahead of them and behind the main breakaway
The second group has been caught by an attack from the peloton, driven now by USA's Nielson Powless
117.5km to go
Three-time winner Peter Sagan looks to be going out the back, ending his illustrious career at the World Championships
116.1km to go
A very strong group of about 25 riders is pulling clear of the peloton
Despite the strength of the group, no one is pulling and the pace has slowed
Italy has got at least four riders in the group, perhaps they'll be minded to push on
113.3km to go
The junction has been made between the peloton and the group, so it hasn't gone clear
111.1km to go
Fred Wright is off the back and looks to be heading for an early shower
109.6km to go
The end for Peter Sagan at the World Championships as he comes to a halt and leaves the circuit
108.4km to go and the nine man breakaway still has an advantage of 2:12
106.5km to go
Looks like a puncture for France's Christophe Laporte
105.7km to go
Belgium pushing hard
105.2km to go
Denmark's Asgreen, Belgium's Philipsen and France's Alaphilippe all out the back
Denmark pushing hard on the front of the vastly reduced peloton
103.6km to go
Defending champion Remco Evenepoel closed the gap himself, bringing together two groups
97.5km to go
Evenepoel attacks!
95.0km to go
The breakaway has lost its first member as Harold Tejada (Colombia) has been dropped
Sad to see Fred Wright having to call it a day early. He looks understandably disappointed
92.8km to go
Laporte's day is done. The nature of the circuit makes it near-impossible to get back on after a mechanical and it was a puncture that did for the Frenchman
92.1km to go
Matteo Trentin is driving hard om the front of the peloton
The overhead shot of the race showing some decent cycle lanes next to a main road
90.7km to go
Van der Poel puts in a little dig and gets a gap. The group is coming back together now
89.2km to go
Tadej Pogacar is taking a turn, working with Van der Poel and others
With less than 30 seconds over the chasers, riders from the breakaway have started to attack, the cohesion over
87.4km to go
Wout van Aert is driving group 2 (or is he slowing it down?), while his Belgian teammates in group 3 are trying to close the gap
86.8km to go
Pogacar attacks!
Trentin is down and looks in pain. It looks like he clipped a barrier but it was hard to tell, even on the replay
84.7km
Evenepoel is back on the Van Aert group, taking a couple of riders with him
78.7km
Kevin Vermaerke (USA) is ahead alone
77.3km to go
Nathan van Hooydonck is trying to bridge from one group to the next. Norway's Rasmus Tiller need a bike change; it was not efficient
76.1km to go
Mattias Skjelmose (Denmark) fancies a little go off the front
74.4km to go
The original breakaway has been caught and passed
73.5km to go
Van der Poel attacks! Van Aert follows!
Is that the winning move?
Six riders clear and working together
71.9km to go
The supergroup has got Kevin Vermaerke in its sights
The lead group is now:
Mads Pedersen, Wout van Aert, Mathieu van der Poel, Alberto Bettiol, Tadej Pogacar, with original breakaway riders Kevin Vermaerke and Matthew Dinham
Mads Pedersen on the attack
Behind Pedersen the group has grown as chasers have come back
The distance ticker on the live television coverage was frozen for some time, then showed 84km to go before dropping to 69km. It's possible that a lap has been taken off the end of the race or the ticker wasn't working for a while or both
67.4km to go
Cosnefroy is dropped after his huge effort earlier
62.6km to go
Pogacar on the attack again
61.7km to go
Looks like a rear wheel puncture for Kevin Vermaerke. A shame for the American and it's very unlikely he'll make it back on
61.1km to go
Evenepoel on the move with Pedersen; Pogacar coming across
60.8km to go
The group is back together briefly before Van Aert goes next
58.4km to go
Evenepoel going again and Pedersen is trying to get back to him
Pogacar is staying alert to any moves, especially anything from Van Aert
56.3km to go
Evenepoel pushing on again with Pogacar coming over, gaps behind
55.4km to go
As everyone else grabs a bottle, Bettiol has gone on the attack
55.1km to go
It's suddenly raining and heavily
Very localised shower as the riders are back on dry roads. Which way are the clouds going?
50.2km to go
Bettiol cornering well on the wet roads, round 23 seconds ahead of the chase
48.1km to go
Bettiol still ahead, Belgium leading the chase
43.2km to go
Big crash for Narvaez on a wet corner
Narvaez's crash has split the chase group
Mechanical for Skjelmose, looks like a rear wheel puncture
40.3km to go
Van Aert, Pogacar, Van der Poel and Pedersen are group 2, around 29 seconds behind Bettiol but importantly ahead of the Evenepoel group
36.7km to go
Looks like Evenepoel's day could be over as his group is now around 30 seconds behind group 2 and 52 seconds behind Bettiol
34.3km to go
Pogacar let the wheel go briefly but was soon back in the fold as Van der Poel pulled out to the side and then went back in behind him
31.1km to go
Evenepoel is back in the second chase group. It's raining again
30.2km to go
Bettiol has been brought back within 20 seconds
Understandably cautious cornering from all riders, especially on the bend where Narvaez went down earlier
Two laps to go for Bettiol
Evenepoel is solo again, off the back of group 4
27.1km to go
Toms Skujiņš, Neilson Powless and Mauro Schmid could be coming back to the Pogacar group
25.3km to go
Bettiol's gap is down to 10 seconds, while group 2's advantage over group 3 is over 30 seconds
22.4km to go
Van der Poel launches!
Bettiol's day is over as he was caught and passed first by Van der Poel and then the others on a short rise
Pogacar pushing hard to close the gap; Pedersen and Van Aert clinging on
The road is dry again on this part of the circuit
20.0km to go
MdvP is 15 seconds ahead and pushing hard on an uphill section
Pogacar is trying his utmost to drop Pedersen and Van Aert, but they're still there. Bettiol is still riding but losing ground.
18.4km to go
The gap is up to 23 seconds and Pogacar is dangling off the back of the chasing trio
It looks like a tactical move from Pogacar rather than being dropped
16.5km to go
Van der Poel has crashed!
He was back up quickly and is still ahead; awaiting an updated time gap
Van der Poel's right shoe was broken in the crash: it's essentially a loose, undone shoe which will hinder his pedalling efficiency
14.6km to go
Pogacar appears to be struggling to hold the wheel of Pedersen, who in turn is clinging on to Van Aert.
Van der Poel just wrenched the remainder of the top Boa dial off of his right shoe
12.8km to go
Van der Poel is taking it easy on the corners but gaining time on the ascents
Van der Poel's advantage is back out to 42 seconds despite the crash
Pogacar attacks but barely gaps Van Aert and the trio is almost instantly back together as Pedersen rolls up behind them
7.4km to go
Van der Poel is now 1:24 ahead. Behind, Pogacar has tried to attack again but Van Aert and Pedersen were equal to it and came around him on a climb
4.4km to go
Pogacar is struggling to keep with his co-chasers
Applause from all nations through the technical area as Van der Poel goes within 3.5km of the finish line
1km to go for Mathieu van der Poel
Mathieu van der Poel is the new Elite Men's Road Race World Champion
Van Aert has attacked in the search for second
Wout van Aert finishes second: who else really?
Pogacar does the sprint of his life to beat Pedersen to third
Evenepoel has just finished. Credit to him for keeping going.
Thank you for reading 20 articles this month* Join now for unlimited access
Enjoy your first month for just £1 / $1 / €1
*Read 5 free articles per month without a subscription
Join now for unlimited access
Try first month for just £1 / $1 / €1