London Cycle Hire to extend east for 2012 Olympics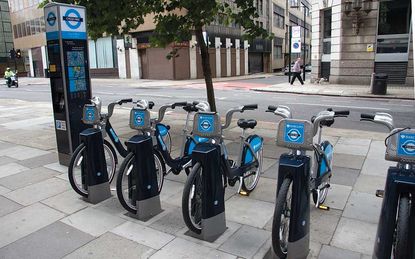 Mayor of London Boris Johnson has announced that the Cycle Hire scheme will extend into east London with the introduction of 2,000 more bikes before the 2012 Olympic Games in the capital.
The extension of the scheme will enable visitors to the London 2012 Games to use the bikes, as well as providing cycle hire facilities for residents and commuters in the area.
Bethnal Green, Bow, Canary Wharf, Mile End, North Shoreditch, Poplar, Tower Hamlets and the Olympic Park itself will all gain Cycle Hire docking stations. A total of 2,700 docking stations will be created in the new area, and the existing hire area will also gain 1,500 additional stations.
"Londoners have taken to the hire of two wheels with alacrity and it would have been absolutely nonsensical not to expand our scheme," Johnson said.
"Plans are now well advanced that will see the roll-out of thousands more of our gleaming bikes across the capital's legendary East End.
"For as little as 12 pence a day users will soon be able to use our bikes to cross a huge swathe of our city, and it will mean that by 2012 we'll be able to invite the entire world to join London's cycling revolution."
Since its introduction in July, the Cycle Hire scheme has been hailed a success, with over 1.5 million journeys having been made in the capital on the distinctive bikes. Over 100,000 people have now registered for the scheme.
Reacting to the news, Jenny Jones, Green Party member of the London Assembly, pointed out that there are still many areas of London that have yet to be included in the scheme.
"This is great news for East London, but a real disappointment for all the other people living and working in Inner London who won't have the scheme coming to their area," said Jones.
"By 2012, the London scheme will still have far fewer bikes and docking stations than Paris, and it's obvious that the expansion of this scheme lacks ambition.
"If the Mayor is serious about his target of having a million extra journeys made by bike every day, then a bike hire scheme which only generates an extra 40,000 journeys a day is well short of what London needs."
Related links
London Cycle Hire boosts property prices
Cycle Hire users get refund after technical glitch
Mayor Boris launches London Cycle Hire scheme
Thank you for reading 20 articles this month* Join now for unlimited access
Enjoy your first month for just £1 / $1 / €1
*Read 5 free articles per month without a subscription
Join now for unlimited access
Try first month for just £1 / $1 / €1