Man behind Team GB bikes hired by UCI as consultant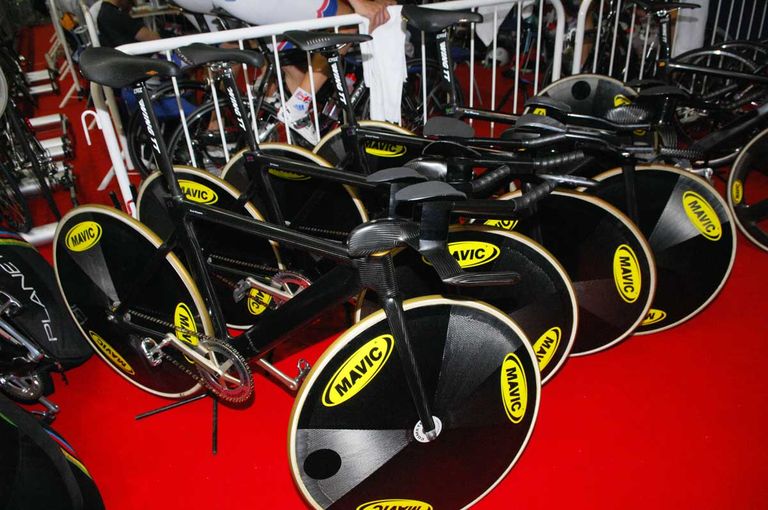 The engineer behind Team GB's all-conquering matt-black track bikes, Dimitris Katsanis, is to be appointed as a consultant to the UCI's Equipment Commission.
Katsanis is well known for innovation in bike design, and his appointment signals a major change of approach for cycling's governing body, which has often been criticised for a highly reactionary approach to bike and equipment rules.
Martin Gibbs, the UCI Chief of Staff, said, 'We'd really like to get back to the kind of levels of interest in this area that we saw with riders like Chris Boardman and Graeme Obree in the 1990s. Not necessarily quite that level of anarchy, but certainly we'd like to see that sort of excitement.
'I think in the past the UCI has been guilty of regulating things it shouldn't have, and not regulating the things it should. We want Dimitris to look at everything, all the regulations, across the board. With his current knowledge, he'll be able to take an intelligent approach to regulating what we need to, and leaving the rest alone.'
Katsanis's remit will include looking at the Lugano Charter, the 1997 document that brought to an end the innovations of the 1980s and 1990s by spelling out the approach that the rider must always be more important than the bike.
'A lot has happened in development since then,' says Gibbs. 'Its philosophical basis is fine, but in the past actually translating it into rules has been a challenge. So we want to see if it needs re-written or refreshed.'
The UCI also hopes that the appointment will help address accusations that in the past the Equipment Commission was out of touch. 'The only way to regulate well in this area is to get someone who's really current. That's the only way to balance the obligations we have towards the athletes to keep things fair, but allow development. Otherwise you end up with people having to ride bikes like Fausto Coppi rode. You get issues over electronics, you get issues over disc brakes. You have to allow a modernisation process,' says Gibbs.
Gibbs confirmed that looking at the current 'retro' regulations governing the Hour record would also be part of Katsanis's remit.
There are plans to look at how the regulations are implemented on the ground as well. 'We can take tips away from other sports like F1 that have equipment regulations, and have trained technical scrutineers with the ability to consistently apply the rules,' says Gibb. 'This is something that's really heartfelt here, from [UCI President] Brian Cookson downwards. We feel we have an opportunity to do something really positive in this area, and we want to be remembered for getting it right.'
Thank you for reading 5 articles this month* Join now for unlimited access
Enjoy your first month for just £1 / $1 / €1
*Read 5 free articles per month without a subscription
Join now for unlimited access
Try first month for just £1 / $1 / €1
Michael Hutchinson is a writer, journalist and former professional cyclist. As a rider he won multiple national titles in both Britain and Ireland and competed at the World Championships and the Commonwealth Games. He was a three-time Brompton folding-bike World Champion, and once hit 73 mph riding down a hill in Wales.
As a writer, he wrote the award winning The Hour about his attempt on the sport's most famous and sought-after record. He followed that up with Faster, about the training, the science the genetics and the luck behind the world's fastest riders, and Re:Cyclists, a history of cyclists from 1816 to the present day.
He's written for outlets ranging from Cycling Weekly to the New York Times, and has presented and and commentated for the BBC, Eurosport, Channel 4, and Sky Sports.
Before he did any of that he was a legal academic at Cambridge and Sussex universities. He now lives with far too many bicycles in London and Cambridgeshire.