Marcel Kittel: I'm looking forward to 2014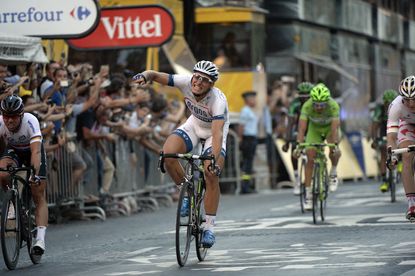 Marcel Kittel was the fastest sprinter at the Tour de France this year but continues to avoid boastful titles preferring to let his performances speak for themselves.
The German is currently in Japan having participated in Saturday's Saitama Criterium - an exhibition race designed to promote the Tour and cycling there - and is set to begin pre-season upon return.
Kittel (Argos-Shimano) won four stages at the Tour this year in what was a bookend performance that saw him claim the first yellow jersey of the race and line honours on the Champs Elysees.
"The days and weeks after the Tour were very exhausting and also in some ways demanding because you had to talk a lot," he told Cycling Weekly."There's media interest but also your friends and family, they all want to know how it was and you have to tell all the stories.
"I took time for that and then it was hard to also still concentrate on training and to do everything perfect, or good enough. That made it not so easy but in the end I'm happy I did it because it was a very nice situation. It was a very nice Tour de France. Now I enjoy my holiday and I'm looking forward to 2014."
The 25-year-old was the only sprinter, other than regular Mark Cavendish, to attend the 2014 Tour route presentation in Paris on Wednesday before flying to Tokyo. Kittel will have a chance to repeat his Corsica opener success with the Leeds Grand Depart next year suited to the fast-men.
The sprint competition at the 100th edition was anything but a foregone conclusion and Rod Ellingworth, Cavendish's former coach, has been the latest to allude to a change in pace telling an audience at the recent London Sports Writers Festival that his past student was not "the fastest at the moment".
Kittel has taken Tour success in his stride and is in discussions about a race programme for the New Year following an informal team meeting earlier this month.
"I always said it's from race to race different, but I think I showed that I belong to the fastest guys in the peloton and that I can beat
also the other fastest guys," he said.
"I'm also aware of the fact that I will lose again races in the future. I think that when you
know that it keeps you concentrated on your goal of winning races but
you can easily deal with a defeat."
Kittel defined his biggest advantage this season as a mixture of his own versatility and the strength of his dynamic Dutch team that was awarded a WorldTour licence at the end of last year.
"It's really important to have a lead-out train and to have a team that helps you," said Kittel. "If it's a hectic final - like the last 300, 400, 500m - you can maybe, if you're really strong, do it yourself. I showed that not only at the Tour but at other races as well that I can, if it's necessary, go for myself alone."
Kittel discusses doping, the strength of Argos-Shimano plus Mark Renshaw reuniting with Cavendish in Cycling Weekly magazine, on sale Thursday for £2.99.
Related links
Iwan Spekenbrink praises Marcel Kittel after 'queen sprint'
Tour stage winner Marcel Kittel eyes upcoming sprints
Marcel Kittel thrilled to finally beat the Tour de France's best
Marcel Kittel ready to continue winning streak at Tour de France
Marcel Kittel: The young generation has a very clear idea of what cycling should be
Thank you for reading 20 articles this month* Join now for unlimited access
Enjoy your first month for just £1 / $1 / €1
*Read 5 free articles per month without a subscription
Join now for unlimited access
Try first month for just £1 / $1 / €1