Marcin Bialoblocki and Ian Wilkinson bolster UK Youth for 2013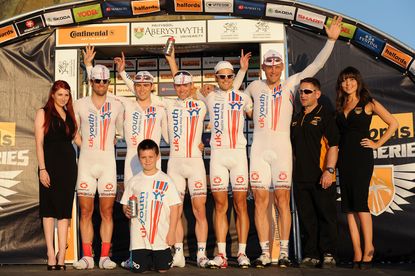 Former Tour Series round winners Marcin Bialoblocki and Ian Wilkinson are among the six new riders UK Youth has added to its roster for 2013.
Pole Bialoblocki joins from Node4-Giordana, while Wilkinson and Rob Partridge rode for Endura Racing in 2012.
Former Motorpoint and Raleigh-GAC all-rounder Tobyn Horton, one-time British Cycling Olympic Academy rider Jon Mould and 21-year-old Josh Hunt - brother of former Team Sky rider Jeremy - complete the new arrivals.
Half of the 12-man team rode for UK Youth in 2012, which marked their first year as a UCI-ranked team. They are hoping to retain their Contintenal-ranked license for next season.
In only their second season, they enjoyed success at home, most notably in the Tour Series. Swede Niklas Gustavsson showed great maturity to win in Redditch, before they took the team prize in Aberystwyth the following night.
Experienced pro Yanto Barker, sprinter Chris Opie, James Lowsley-Williams, Richard Tanguy are all retained for next season, as is Greg Mansell, whose father Nigel is the President of the UK Youth charity.
In announcing details of its bike deal with Cervelo, the team said: "They use the same engineering tools and techniques as the most advanced F1 teams."
Team UK Youth team 2013
Yanto Barker
Marcin Bialoblocki
Niklas Gustavsson
Tobyn Horton
Josh Hunt
James Lowsley-Williams
Greg Mansell
Jon Mould
Chris Opie
Rob Partridge
Richard Tanguy
Ian Wilkinson
Thank you for reading 20 articles this month* Join now for unlimited access
Enjoy your first month for just £1 / $1 / €1
*Read 5 free articles per month without a subscription
Join now for unlimited access
Try first month for just £1 / $1 / €1