Mark Cavendish: unfinished business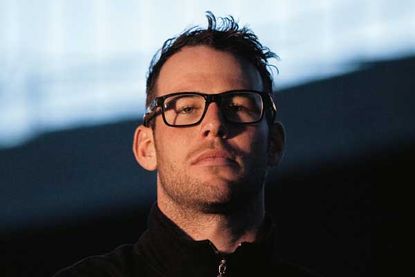 Get The Leadout Newsletter
The latest race content, interviews, features, reviews and expert buying guides, direct to your inbox!
Thank you for signing up to The Pick. You will receive a verification email shortly.
There was a problem. Please refresh the page and try again.
Every rider, athlete and player has a career arc. They rise, peak and then they fall. In any sport that involves world-class levels of physical performance, your time at the top is limited.
Cycling isn't snooker or darts. No matter what the marketers tell us, it's still not golf; there'll never be a cycling Tom Watson, vying for a Grand Tour win at the age of 59. This is professional road racing and every big hitter is given notice that their time is coming to an end at some point.
On the final stage of the 2013 Tour de France, on the Champs Elysées, Mark Cavendish was given a little hint of his mortality in the shape of Argos-Shimano's young sprinter Marcel Kittel. For the first time since he raced to the finish line in the final stage of the Tour, Cavendish had been beaten in what amounted to the straightest fight of the race.
Cav finished third that day and admitted that he wanted the ground to open up and swallow him, partly out of disappointment and partly to avoid the media.
As usual, Cavendish, riding in his first season with Omega Pharma-Quick Step, was under intense media scrutiny. It comes with the territory. From BBC Sports Personality of the Year, shampoo TV adverts, marrying a former glamour model, launching his Cvndsh brand and winning more races than any other British professional road rider ever, Cavendish is news. If he wins, it's news. If he loses, sometimes that's even bigger news.
Marcel Kittel takes the win on the final stage of the 2013 Tour de France
Highly quoteworthy
It's fair to say that Cavendish hasn't always enjoyed the most cordial relations with the media. Like any rider who's happy to say it like he sees it, Cavendish is normally a reliable source for a salty headline or quote. In a sport where press officers play a large role and riders are being schooled in media training, Cavendish - hair-trigger temper, no sufferer of fools, no stranger to Anglo-Saxon cursing all wrapped in a wicked sense of humour - is a headline waiting to explode.
However, in the latest of his two volumes of autobiography, At Speed, Cavendish reveals that he had a hard time dealing with the coverage of the London 2012 Olympic road race. Initially hurt at being branded a failure, Cavendish realised that, as UK cycling has grown, it has attracted a range of new fans, with little background in the sport. From being a niche sport followed by dedicated fans, in three or four years, it's developed a broader, less clued-up following.
In At Speed, Cavendish clearly illustrates the problem with new fans' expectations and also the perils of giving interviews in the heat of the moment. Cavendish writes that he'd just sprinted to 29th place on the Mall, 40 seconds down on gold medallist Alexandre Vinokourov...
"I'd be lying if I said that the reaction to my second 'failure' at an Olympics didn't irk me... I made my way through the mixed zone to do my first post-race interviews. The BBC's sports editor, David Bond, asked whether I'd paid the price for and was still weary after my exertions at the Tour de France.
"'Don't ask me such stupid questions,' I snapped."
Cavendish during the London 2012 road race
Read all about it
And that was before Cavendish had clapped his horrified eyes on the Sun's back page the following day: 'From Brad to Worst: Cavendish Olympics Hell Again!' For a rider with a temper as volatile as Cavendish's, that was never going to go down well. With his borderline obsessive attitude, and forensic attention to racing, Cavendish has struggled to appreciate that not everyone 'got' the bigger picture and understood the tactical nuances of one-day racing.
Over a year later, Cavendish looks back on that episode rather more philosophically. "I wrote about that episode in the book because I think it will give people a bit of added insight into the intricacies of sprinting, even to the real followers of the sport," he says.
"It's not just, 'Oh, you all start together and then you go as fast as you can to the finish.' I think people are starting to understand that you can't win the Tour de France on your own, you need a team behind you and can't even win a stage on your own, you need a team behind you.
"I put in a bit about the London Olympic road race as well, to say that I didn't fail, just to help people who don't really understand the sport that well. Especially now, people are watching cycling on telly who don't really understand it that well - which is part of the success story of cycling in this country - and I've learned that instead of getting frustrated by that, by people not knowing, well you can use that energy to try to educate them into what's going on, talking to people in layman's terms. The thing is that it can be quite a boring sport if you don't know much about it, but once you learn a bit, there's a sort of a snowball effect really."
For all of his 'don't suffer fools gladly' demeanour, nobody ever had Cavendish pegged as little more than a mouthy, flashy galloper. Did they? As a head-down, flat-out, pin-balling sprint finish lunatic? From his earliest days at the British Cycling Academy, Cavendish always had a clear idea of what he wanted to do and how he wanted to race. It's clear talking to him away from the sweaty crush after a race finish that he has thought a lot about his craft and his attention to detail is impressive. Cavendish's 'party trick' is to recount, in tiny, seemingly obscure detail, the final few kilometres of race finishes.
Except it's not a trick, it's part of what makes him such a phenomenal sprinter.
"I think I ride with a lot less adrenaline," he says. "In fact, I'd say I don't ride on adrenaline. I'd say I'm a lot more calculating than the others who are full-on - the big guys are like 'Boom, boom boom,' - so my heart rate is probably 30 beats lower than the others coming into the finish because I'm processing things.
"I try to take it all in, I'm always learning and picking things up, which is why I study everything about the sprint after, so I can know instinctively, instead of having to work things out, about the consequences of doing this or that.
Mark Cavendish with team mates during the 2013 Tour de France
"In the end it becomes instinctive, rather than having to work something out, because I've thought about it in advance. When you do that it really slows things down and that enables you to absorb things more.
"A MotoGP rider like Cal [Crutchlow] or an F1 driver, they have to know exactly where they need to brake to slow down from 300kph to get round a corner; a footballer knows if he's got space, where a player is going to be coming from to pass the ball into that area; at the pro level it's so much higher, you never learn it, you end up doing it naturally."
Forensic approach
Apart from his physical prowess, his genetically endowed sprint abilities, he has applied himself to get as much as he can out of his body and it is that forensic approach to his art that has made him such an in-demand rider.
When he and Sky parted company at the end of 2013, there wasn't a shortage of suitors and he ended up at Omega Pharma-Quick Step for 2013.
Between the freewheeling, smaller budget HTC teams via the regimentation of Sky to his current Omega Pharma team, it looks like Cavendish has found the ideal outfit, operating somewhere between the two models.
Omega has a big squad of strong riders capable of winning anything, a team not over-reliant on him to win and not famous for taking things too seriously.
Victory on his mind
"As long as the team goes in with what it's got and tries to be as successful as possible in whatever field it's working in, then I think that's the most important," he says.
"I've never been a rider to hold back: if I can win six stages of the Tour then I've never been happy with five. That's the way I am and if I'm in a team that does that, that's fine. It's like HTC, every race we went into, we went in to win, you know? At the Tour we realised we couldn't win the yellow jersey, but we went in to win everything else and we never did races for training, we went in and worked for the team to win as much as possible.
"And I think I've found that again with Omega Pharma-Quick Step and the signings we have for next year [2014] showed we were lacking in GC riders, so signing Rigoberto [Uran] for the GC in Grand Tours and the hilly Classics for him, we've now got Alessandro [Petacchi] and [Mark] Renshaw for the sprints and as we've already got that strong Classics base I think we're going to be successful across the board, from WorldTour, Grand Tour to one-day races and Classics.
"And that's something that's important for me, I don't just get a buzz crossing the finish line first or from one of my team-mates in that race crossing the line; if a team-mate in a parallel race wins, I get as much of a buzz from that. I like to be part of something successful, with people working together and I think this team has that attitude."
There's always a risk integrating a volatile character with a big reputation into an established and successful team. Cavendish has been a winning rider for several seasons now, he wasn't an unknown quantity and adding 'Cavendish' to an established squad needed some kind of bedding-in period.
"Yeah, it's now easier coming in to 2014 than it was at the start of my first season with the team, you know?" he explains. "I came in. I'm the new kid. There were only three guys I had raced with before in the team and it's just human nature. You don't just embrace something new straight away.
"In the end it didn't take long - a matter of months. You get the odd person saying, 'Oh, it's not working out,' after two months; well... it's just two months, you know? The fact that after four months we were winning five stages of a Grand Tour [the Giro] I think shows how quickly that transition happened and the management are already building on that for 2014. They have a vision for the future, not saying, 'We've got the guys already, you don't need any.' They are working towards building on something that has already been successful - this is a team that won four stages of the Tour and five stages of the Giro.
We could have done better in the Classics, but Tom [Boonen] crashed out and ultimately we still won more than any other team this year and we are still building on it, not sitting back and resting on it, so we're signing new people and looking at areas we can improve on. It was something that reminded me very strongly of HTC and it's really nice to be a part of that process."
Cavendish at the Tour of Britain
This article originally appeared in the December 19 2013 issue of Cycling Weekly magazine.
Thank you for reading 20 articles this month* Join now for unlimited access
Enjoy your first month for just £1 / $1 / €1
*Read 5 free articles per month without a subscription
Join now for unlimited access
Try first month for just £1 / $1 / €1
Get The Leadout Newsletter
The latest race content, interviews, features, reviews and expert buying guides, direct to your inbox!
Founded in 1891, Cycling Weekly and its team of expert journalists brings cyclists in-depth reviews, extensive coverage of both professional and domestic racing, as well as fitness advice and 'brew a cuppa and put your feet up' features. Cycling Weekly serves its audience across a range of platforms, from good old-fashioned print to online journalism, and video.