Millar sets Richmond Park time trial 'record'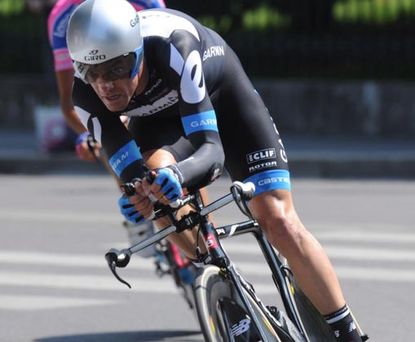 David Millar has set an unofficial time trial record for a circuit of Richmond Park in London, clocking 13 minutes and 35 seconds around the 6.7 mile circuit on Tuesday.
Millar was in London this week to attend the launch of his new autobiography, Racing Through the Dark: The Fall and Rise of David Millar on Monday evening.
Whilst the Scotsman was in London, he decided to organise a time trial around the park with his 'private cycling club' along with several other local cyclists from various clubs.
Millar's time of 13-35 over 6.7 miles means he completed the loop in just a shade under 30mph - 29.595mph (47.63kmh). Impressive, but also faster than Richmond Park's road speed limit, which was lowered to 20mph in 2004. Shhh.
Millar completed the ride using his full-on team issue time trial machine, a Cervelo P4, using the same set-up that saw him win the final individual time trial in the Giro d'Italia in May.
BBC's Graham Bell took part in the challenge and filmed it for the BBC website.
Bell asked Millar whether he thought his record would be beaten. "I don't know, I don't think so. There aren't many pros that ride around here, are there," replied Millar.
Millar is taking a short break before taking part in the Tour de France where he will assist his Garmin-Cervelo team in its attempt to win stage two's team time trial and lead out American Tyler Farrar in the sprint stages.
Millar became the first Briton to wear all the leader's jersey in all three Grand Tours during the Giro, having previously lead the Tour de France and Vuelta a Espana.
Millar's autobiography, Racing Through the Dark: The Fall and Rise of David Millar, goes on sale from June 16.
The BBC has now removed the video from its website



Cycling Weekly spoke to Millar Friday lunchtime about the ride. Now back at his home in Girona he explained that he had since written to the Royal Parks. "I apologised profusely, and explained that it was all down to my naivity. I had no idea of the rules."
Neither did Millar expect Graham Bell to turn up with a video camera. "I explained that I'd lived in France and Spain for so long, where this wouldn't be a problem, that I didn't even think to check."
Millar heads to the Pyrenees for a block of altitude training ahead of the Tour de France and will not ride the national championship road race on June 26 to cut down on any further travelling before the Tour.
Related link

Millar wins Giro's final time trial David Millar: Rider Profile
Thank you for reading 5 articles this month* Join now for unlimited access
Enjoy your first month for just £1 / $1 / €1
*Read 5 free articles per month without a subscription
Join now for unlimited access
Try first month for just £1 / $1 / €1