New segregated cycle routes for London announced, the day after another cyclist death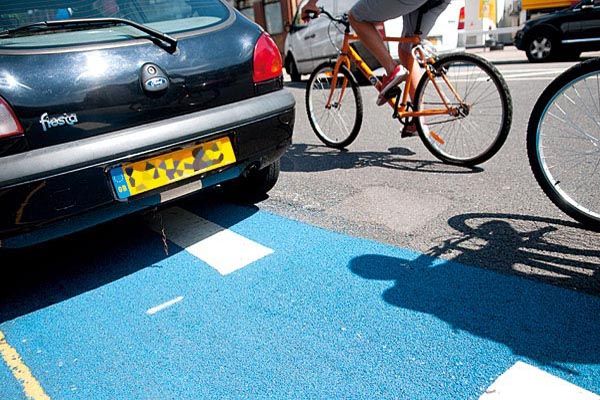 London is due to receive new segregated cycle routes, including a 'substantial upgrade' to Cycle Superhighway 2 (CS2) with 'pioneering' separate cyclist traffic lights, it was announced today.
The announcement comes at the launch of London's first fully segregated Cycle Superhighway, the CS2 extension from Bow to Stratford, and sadly after a man in his 60s was killed after a collision with an HGV on CS2 yesterday afternoon.
CS2, which was condemned by a coroner for lulling cyclists into a false sense of security, will be segregated along Whitechapel High Street, with full or semi-segregation on the rest of the route, along with a new 'substantially segregated' new North-South route. Meanwhile the Bow to Stratford CS2 extension opened today, a two mile, physically-separated lane with 'floating' bus stops.
The Mayor, Boris Johnson, said: "This Barclays Cycle Superhighway is the first physical fruit of my promise to improve the experience of cycling in London. A stone's throw from the Olympic velodrome where Britain's cycling team topped the world, we humbler London cyclists now have a world-standard cycle route of our own."
Of the long-awaited upgrades to the existing route he added: "I share people's impatience for change. We have taken the time to ensure that it is done properly - but that physical change is now underway."
Sustrans' London director, German Dector-Vega, said: "On the back of another cycling death on the streets of London, this significant investment aimed at improving safety is much needed in response to the grave concerns of cyclists and other road users."
Following Transport for London's (TfL) Transport Research Laboratory road layout tests, cyclists' junction approaches will be fully segregated by a kerb on the upgraded CS2, along with Britain's first cyclist-only red-amber-green traffic light phases, which gives bikes a green light while motor traffic waits. This will help avoid vehicles turning left across the path of cyclists and will be rolled out, according to TfL, 'at other locations on the network'.
Responding to feedback from cyclists, plans for the notorious Aldgate Gyratory, at the route's West end, will also be improved, with 'innovative layouts on Aldgate High Street to deliver the safe and separated space that the cycling community desire', though it is not yet certain what the latter will entail.
London Cycling Campaign's Mike Cavenett, said: "For several years, LCC has been calling for the innovative use of traffic lights to remove conflicts between bicycles and motor vehicles at junctions. We're delighted this campaigning work has borne fruit, and look forward to seeing detailed designs for these potentially life-saving junctions."
A new North-South route from Elephant and Castle will connect at Blackfriars Bridge with the Mayor's proposed cycle crossrail, an East-West superhighway from Barking to West London.
Meanwhile, more than 100 designers, engineers and traffic modellers will be employed, which Sustrans' Dector-Vega said "show that making it safe and convenient to travel by bike is becoming a real priority, as our leaders recognise [cycling's] many economic, environmental and health benefits.'
Thank you for reading 5 articles this month* Join now for unlimited access
Enjoy your first month for just £1 / $1 / €1
*Read 5 free articles per month without a subscription
Join now for unlimited access
Try first month for just £1 / $1 / €1