Oleg Tinkov buys Saxo-Tinkoff team, becomes Tinkoff-Saxo for 2014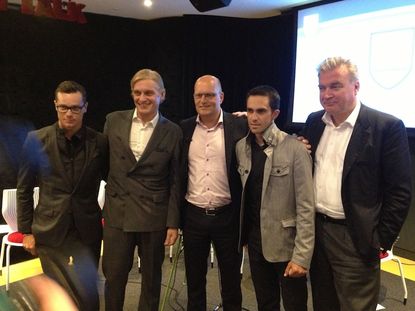 Russian billionaire Oleg Tinkov confirmed in London this afternoon that he has purchased the Saxo-Tinkoff team and its WorldTour licence from Bjarne Riis.
Tinkov, whose credit company has been the outfit's secondary sponsor since June 2012, reportedly paid €6m to acquire complete ownership from Riis.
It will operate under the name of Tinkoff-Saxo in 2014, and Riis will become the team's general manager.
Today's announcement is somewhat surprising, given both parties issued press releases during the summer confirming that Tinkov's backing of the team would cease to exist at the end of 2013. He was also negotiating with Cannondale about becoming a partner with the American squad.
However, speaking at Google's central London offices today, Tinkov said: "It's a win-win situation. I have my top team. I have Bjarne, the best sports director and I have Alberto [Contador] as the best rider. I am very happy."
Tinkov and Contador's relationship has not always been so amicable, and the Spaniard looked uncomfortable throughout the press conference.
During this year's Tour de France, Tinkov tweeted that "his salary doesn't match his performance. Too rich and isn't hungry, that's my opinion, and I deserve it. He must work harder [sic]".
Insisting that Contador was one of the few riders who can beat Chris Froome next July, the Russian played down his previous comments.
He said: "Our relations are great. There is no problem. Why would we talk about our relations publicly? Everyone has opinions. Why shouldn't I share them?
"Sometimes journalists take my Twitter too seriously. It's not my official way of communicating. It's my alter-ego, I'm making fun.
"I believe that the internet is for porn and Twitter for fun. It's not serious. I'm just making people laugh."
Riis is currently being investigated by Anti-Doping Denmark (ADD) for widespread sporting drug abuse in the Scandinavian country, but the disgraced 1996 Tour de France winner denied his decision to sell was triggered by this.
"Absolutely not. It's pure speculation. We don't act on this," he said.
Tinkov has previously backed teams bearing his company's name, and notably signed disgraced riders such as Tyler Hamilton and Danilo Hondo.
Yet despite this, and the ongoing ADD investigation, he said he has not and will not tolerate cheating on his team.
"The fact is that I have been owning teams for three years - Tinkoff Restaurant one year, Tinkoff Credit Systems two years - and have been sponsoring for Saxo-Tinkoff for two years.
"Five years I've been involved in teams, zero doping cases. Zero doping cases. There is zero-tolerance," he said.
Thank you for reading 20 articles this month* Join now for unlimited access
Enjoy your first month for just £1 / $1 / €1
*Read 5 free articles per month without a subscription
Join now for unlimited access
Try first month for just £1 / $1 / €1