Olympic champion Longo faces doping hearing for missed controls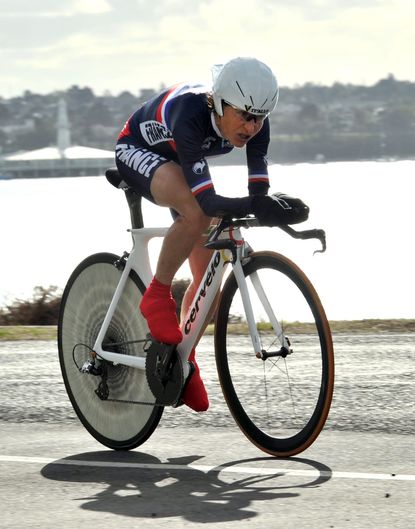 French cycling legend, Jeannie Longo faces doping charges after missing three out-of-competition controls. According to French newspaper L'Equipe, the French anti-doping agency (AFLD) asked the national federation, the FFC open a disciplinary hearing.
The 52-year-old told AFP news agency she has "been tested more than any other athlete in the world," but failed to explain three missed controls within 18 months.
Longo missed a United States Anti-Doping Agency (USADA) test on June 20. It, according to today's L'Equipe, followed two other missed controls on French soil. The AFLD sent her warnings by mail prior to the third error in the USA.
She had been training in the USA just days before winning her 11th national time trial championship in Boulogne-sur-mer, France. Her participation in the World Championships in Copenhagen at the end of the month, 19 to 25 September, is now in doubt. She is a 13-time world champion and an Olympic gold medallist, winning the road race at the 1996 Atlanta Games.
"When you have three where-abouts errors you will eventually be punished in the same way as those who have taken performance-enhancing drugs," said FFC president, David Lappartient.
"This case is embarrassing for Jeannie Longo, who might not deserve it at all, and for French cycling."
Dane Michael Rasmussen faced similar circumstances in 2007, when he left the Tour de France in disgrace while leading the overall. During the race, the Danish cycling federation and the UCI showed that he missed out-of-competition anti-doping controls.
Rasmussen returned to racing in 2009 after a two-year ban with team Miche. Longo must wait to discover if she will face a similar ban, which could likely be a definitive end to her long career.
Thank you for reading 5 articles this month* Join now for unlimited access
Enjoy your first month for just £1 / $1 / €1
*Read 5 free articles per month without a subscription
Join now for unlimited access
Try first month for just £1 / $1 / €1