Pinotti prepared to fight at the Giro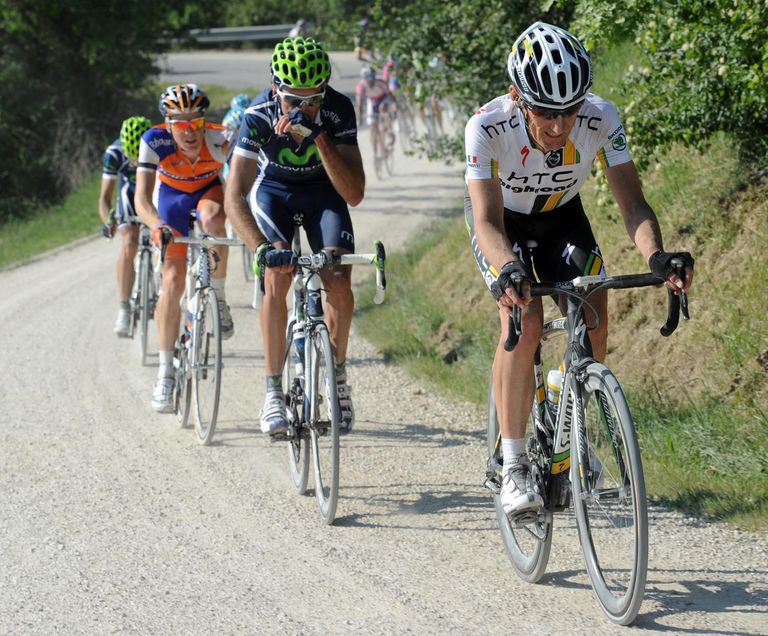 As a tumultuous opening week of the Giro d'Italia comes to a close, the wearer of this edition's first leader's jersey, Marco Pinotti, has a chance of pulling on the maglia rosa for a second time tomorrow in Sicily.
Having passed on the mantle to Mark Cavendish last Sunday in Parma, Marco Pinotti has ridden strongly over the last week and sits third place overall, the best placed of the GC riders going into tomorrow's Etna stage.
"The first week has gone well. It would have been better with the pink jersey for longer, but for me, the goal was to win the TTT and then we tried to win that stage with Cavendish," Pinotti told Cycling Weekly at the start of the eighth stage in Sapri.
Not one of the A-list contenders, the 35 year old accepts that "the Etna stage will be tough. We've seen already who will be strong: Scarponi, Nibali, Kreuziger. Everyone's in good shape here."
Ninth overall last year, the HTC-Highroad rider was cautious when asked what his aims were for the Giro: "Top five, but we have to be a bit realistic."
"I'm there, so I will be fighting. I'll take it day by day and try to survive, I don't even know if I can be in the top ten, the other stages are harder."
"You can see in the mountains, there are stronger climbers than me. But normally in the second and third week, I can also climb well. I'm not so obsessed with the GC though this year, I will try to go for the last time-trial [in Milan]."
One of the more lucid professional cyclists in the peloton, respected Pinotti is also a riders' representative.
After the Mount Etna stage, he will meet with organiser Angelo Zomegnan, other representatives and team managers, to decide on the use of the Monte Crostis descent on stage 14.
The sharp descent, which precedes the Monte Zoncolan, includes some unmade roads. Several corners are expected to have safety nets on them.
"I haven't seen it yet," he said. "I hope it's not too dangerous. I will do the best to put the riders's safety first."



Related linksHTC-Highroad win Giro's team time trialGatto springs late attack to win stage eightContador surprises with attack before mountains