Oakley unveils its lightest ever glasses
Oakley has just launched the EVZero, its lightest ever frame, available with either Path or the larger Range lens option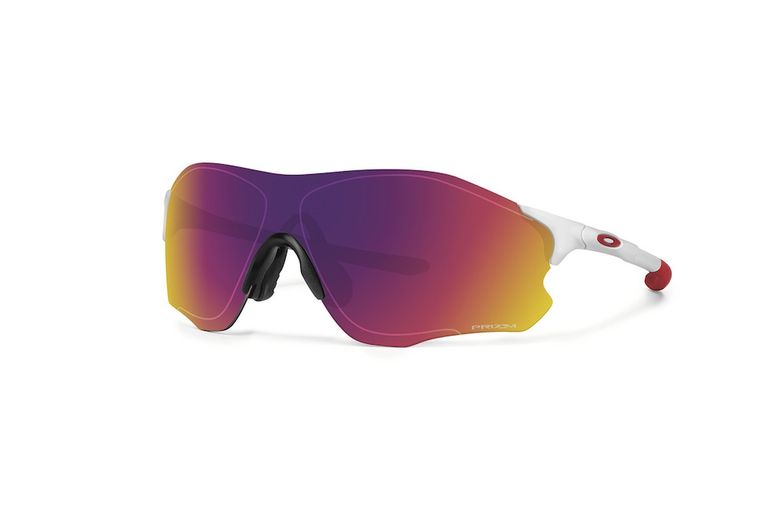 Oakley are the most popular performance sunglasses in the pro peloton and are often seen being worn by athletes not even sponsored by the American brand.
The latest addition to the Oakley line up is the new EVZero, which the company claims is its lightest-ever sports performance frame with the Path lens equipped version weighing just 22g.
>>> Best cycling sunglasses
Available with either a Path lens or larger Range lens option, the design is rimless, not just to shed weight, but also in a bid to give greater unobstructed peripheral vision.
>>> Review of the Oakley Radar EV
Oakley doesn't call it a lens though, as that sounds too boring, instead it is a 'Plutonite® toric shield.' The 'Plutonite® toric shields' are treated with the company's Prism technology that is intended to help riders see both bright light and shadows to better spot changes in the texture of road surfaces.
Engineered to maintain a comfortable and secure fit both frames utilize Oakley's patented 'Three-Point' fit as found on other models in the brand's range, such as the Radar EV.
According to Oakley, the earsocks and nosepads are coated with Unobtainium®. Which coincidentally, is what the humans were mining on Pandora in the film Avatar. It is said to increase grip upon contact with perspiration.
The EVZero has a retail price starting from £140 depending on various options. The Path option is said to weigh just 22g and the the Range, 24g.
Oakley Prism™ Road Lens Specification
Light Transmission: 20%
Light Condiitons: Changing Conditions
Contrast: Increased
Base Lens Colour: Indigo
For more information, head over to Oakley