Sneak peak at the custom designed Bianchi Specialissima in honour of Marco Pantani
Bianchi has designed a one off Bianchi Specialissima for 2018 in honour of Marco Pantani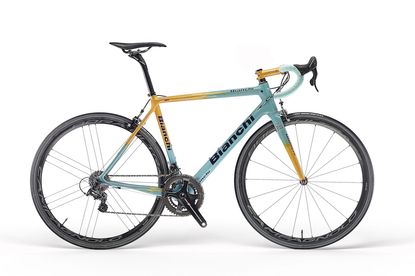 Bianchi has released photos of the custom designed, 2018 Bianchi Specialissima it has designed in honour of Marco Pantani.
The bike has received a custom paint job, and is decorated in the exact same way Pantani's bike was in 1998 – the year he achieved his famous double win in both the Giro d'Italia and the Tour de France.
The bike has the same yellow paint that is blended into that classic Bianchi celeste colour. Even the head tube badge is the same as that which adorned Pantani's original Bianchi MegaPro XL that Il Pirata rode.
>>> Bianchi Aria revealed: Italian brand extends its aero range even further
His bike used super light aluminium tubing, putting it at the forefront of frame construction in those days. Bianchi claim that this is similar to the current Bianchi Specialissima and its ultra-light frame and fork system.
Watch: How to ride long climbs
2018 marks the 20th anniversary of Pantani's double victory in both the Giro d'Italia and the Tour de France. To this day, Pantani is only one of seven riders to have achieved the historic feat. In his honour, the Specialissima has "anniversary Pirata Pantani" stuck on the fork.
An immense climber, Pantani last raced in 2003, but dealt with drug problems both on and off of the bike. He committed suicide on February 14, 2004 and is considered one of cycling's larger than life characters.
Thank you for reading 10 articles this month* Join now for unlimited access
Enjoy your first month for just £1 / $1 / €1
*Read 5 free articles per month without a subscription
Join now for unlimited access
Try first month for just £1 / $1 / €1