Spy shots show 12-speed SRAM eTap
Spotted on a Katusha-Alpecin Canyon bike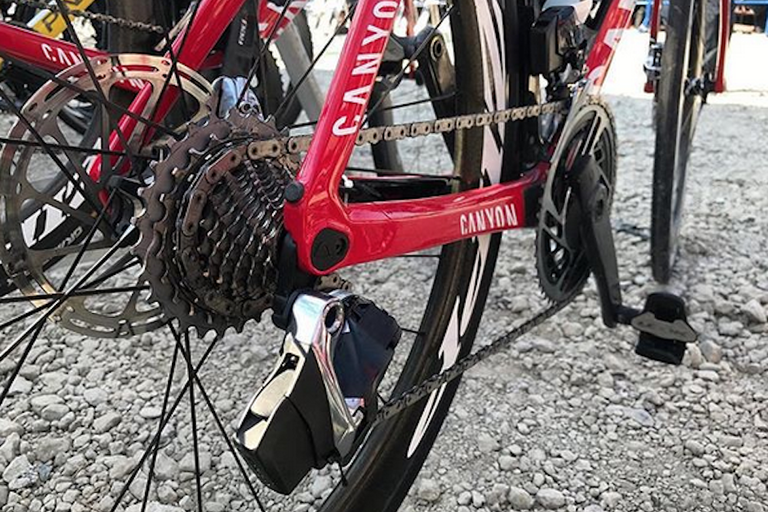 There have been rumours for some time that SRAM was in the throes of upping its road bike groupsets to 12-speed. Now we've got the first concrete evidence that 12-speed SRAM Red eTap is on its way, via a series of spy shots.
Posted on Instagram by mikey.vk, who describes himself as a professional bike mechanic, the shots show eTap 2x running a 12-speed cassette. The bike appears to be the new Canyon Aeroad CF Disc in the colours of the Katusha-Alpecin pro team.
So it looks as if SRAM is trialling the new groupset with the pros, ahead of the 2019 season. It's something it did with the original 11-speed Red eTap, with shots of the groupset appearing for months before its official release. Kitting out a few members of a pro team with the new groupset is a good way of proving the tech and getting feedback in a race situation, allowing SRAM to identify any teething problems and tweak the new system.
The captions to the shots say that it's a 10-28 cassette, giving a bit of extra top end range. SRAM has been offering 10 tooth highest sprockets on its 1x groupsets for a while, so putting one on a 2x groupset is another natural extension of the brand's tech.
SRAM also seems to have a new Quarq power meter crank system on the bike in the spy shots.
SRAM already has a 12-speed groupset off-road – Eagle. It's a 1x system and can run cassettes up to 10-50, but shows that SRAM again has the tech at hand to port to a new 12-speed road groupset.
It's also worth noting that SRAM isn't the first brand to break out of 11-speed. It's been a few months now since Campagnolo was the first of the big three groupset makers to debut a 12-speed road bike groupset. And Rotor had a 13-speed 1x groupset on show at Eurobike this year too.
So it looks as if the arms race in sprocket numbers isn't over yet.