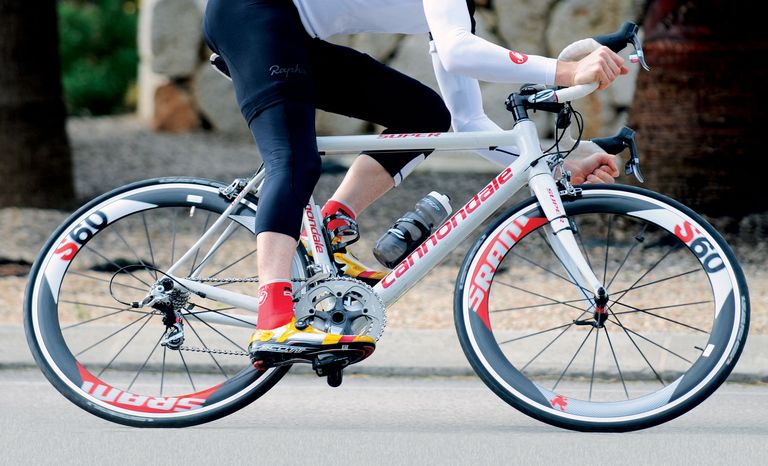 Cycling Weekly Verdict
Not only does the SRAM S60 reduce aerodynamic drag, with a proven, wind-tunnel tested, toroidal rim shape, but at the same time it's laterally very stiff, and torsionally too, at the rear. In other words, they don't waste your precious power input. It all points towards one thing: going forward fast, and not uncomfortably either.
For
+

Sapim spokes

+

828g front and 922g rear, totalling 1,750g

+

Comfortable ride
Against
-

Available in clincher only
SRAM's wheel range is an inevitable offshoot from its recent acquisition of the Zipp brand, and as such you'll spot more than a few similarities to Zipp's 'more affordable' Flashpoint wheelsets.
Out of three possibilities, SRAM S40, S60 and S80, I chose to go with the 'all-rounder' middle option, SRAM S60, which has, as you can probably guess, a 60mm-deep rim profile, which is structural carbon, not a fairing. Sapim spokes are laced 18 radially in the front and 20 in the rear, radial on the drive side and two-crossed on the non. The front wheel weighs in at 828g and the rear 922g, totalling 1,750g — lighter than the Flashpoints because SRAM has added its own know-how to develop the original design.
The SRAM S60s have a sprightly ride feel that you notice straight away. They accelerate with relative ease, and while riding some the mountains in Majorca I seemed to be climbing very well, not at all aware of nearly a pound of extra rotating mass, compared to wheels I'm used to. That tells me they're efficient, something I cannot stress enough because, as one of the worst culprits for always favouring the lightest kit, the S60s really impressed me.
Available in clincher only, and while not absolutely top-end prices, the SRAM S60 is still fairly premium at £1,100 a pair.
Front £499.99 and rear £599.99.