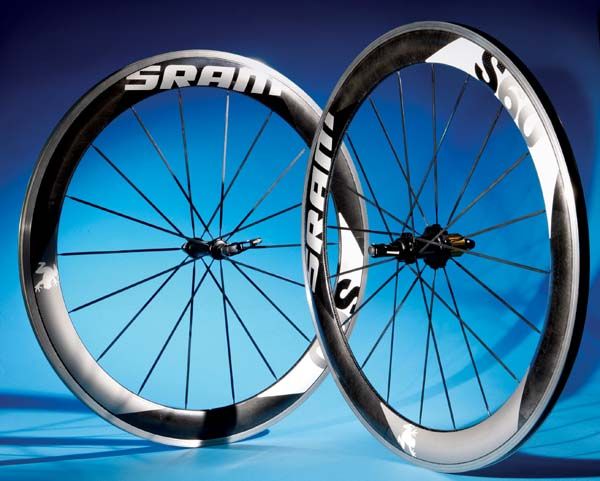 The SRAMs and Mavics may be getting a lot of direct comparison here but it's for good reason. They are similar in weight, feel and cost - and the end result is incredibly similar-feeling wheels. The French may have hub quality and looks on their side, but the aero performance of the SRAM wheels is unquestionably better. Lab test results>>
Against
-

Weightier than some rivals

-

Seal squeal
Despite being launched three years ago now, The S series of wheels from SRAM is still pretty near the top of the aerodynamic tree at this price point.
It came out of Zipp's Flashpoint series of wheels - developed to offer aero wheels at lower price points - and the S60 we have in this test is the mid-depth model (60mm) aimed at all-round use.
A quick look at the scales show's its never going to be a super-fast accelerating wheel but, much like the Mavic, it does wind up well once you're trucking along, and carries speed as well, if not better than the Cosmics - a nod to the superior aero performance.
We had an issue with the hub squealing after torrential rain as the oil had been washed from under the seals and the rubber dried out. It's only a minor gripe as a drop of PTFE lube solved the problem but it does mean the hubs will need a bit more TLC than the French competition.