Here's why we think Primož Roglič used a gravel groupset on Giro d'Italia's Queen stage
The Jumbo-Visma rider changed bikes on the penultimate climb of the day for better cadence on the steep gradients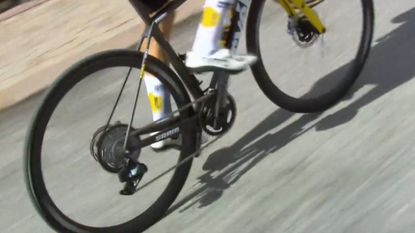 (Image credit: GCN)
Primož Roglič (Jumbo-Visma) made what looked like a risky but planned bike change in Cortina d'Anoezzo, only 20 kilometers from the end of stage 19 of the Giro d'Italia.
The Queen stage, which featured five categorised climbs, finished up the infamous Tre Cime di Lavaredo. The spare Cervelo R5 Roglič switched to was equipped with a single chainring up front, and SRAM's super wide range 10-44 cassette. A setup more commonly seen on gravel bikes rather than WorldTour superbikes.
The reason for the change? We think it could have been to help the Slovenian optimise his high cadence riding style. The final climb of the day featured hellish ramps of 18% in multiple places, enough to sway the equipment choices of even the best climbers in the world.
The Tech
So, what gearing was Roglič using? Well, the most obvious anomaly from the usual setup was that dinner plate-sized rear cassette, which looked straight out of the Mountain Bike World Cup.
The cassette in question is SRAM's XPLR XG-1271, which belongs to the brand's top-tier Red range. 'XPLR' indicates a subdivision of the groupset aimed at providing wider gear ranges for more demanding types of riding such as gravel and bikepacking. The move to this huge cassette, which is only 1x compatible, also meant the Jumbo-Visma mechanics had to opt for the matching Red XPLR rear derailleur and just the single chainring upfront.
The 1x limitation explains why he didn't just start the stage on this bike — a lack in top-end speed. With what appears to be a 44t chainring up front, the maximum gear would be 44/10. To put that into perspective, even a frankly ridiculous cadence of 130 would only get you to a ma speed of 69kph (42 mph) — evidently not enough for the early part of the day's stage.
Gear ratios
On the face of it, it seems a little strange. Why would one of the world's best climbers change his equipment for a single climb alone? To take a look at whether this was really worth while for his riding style, we have taken a look at the gear ratios, and the climb itself.
While we don't know for certain what size front chainring Roglič was riding, it does appear to be a 44t chainring or something very close. This, paired with a 10-44t cassette at the rear, would give him a lowest ratio of 1:1 — basically, for one turn of the crank, he'd get one rotation of the rear wheel.
A better way of understanding this choice though, is in terms of speed and cadence.
At a cadence of 100rpm, Roglič could ride at a minimum speed of 12.8kph on this setup. Compare this to a more common lowest gear setup of 39/32, which at the same 100rpm gives a minimum speed of 15.6kph. Faster, yes, but more taxing.
On a 18% gradient, a 70kg rider —even on a UCI weight limit matching 6.8kg bike— would need to put out a sustained 600 watts to keep up that cadence and average speed.
By all means, these pros are capable of attacking at this kind of power output, but it takes a lot of effort to sustain it on a long climb. The lower gear ratio makes a faster cadence more sustainable and that should result in less muscular strain at the same speed.
By running the wide range gearing, Roglič gave himself the advantage of mitigating that horrible feeling where the climb dictates your speed as you run out of gears.
Other benefits
In addition to cadence efficiency, Roglič was also able to achieve a better chain line by running a larger cassette. By having a wider range of gears, he could spend more time nearer the middle of the cassette, preventing the chain from running at more extreme angles, saving vital watts.
There is some speculation too as to whether this would make Roglič's R5 even lighter, but we're not too sure. The off-the-shelf version of the Jumbo-Visma team's machine comes in at 7.1kg for a size 56cm, and while this is above the UCI weight limit of 6.8kg, factor in some inevitable pro bike weight saving hacks, alongside the Slovenian's smaller 51cm frame, and we are pretty certain that both bikes would be bound by the 6.8kg weight limit.
Was it worth it?
Roglič 's planned bike chance lost him some precious seconds but the ever-consistent Sepp Kuss was there to pace him back to the peloton. Throughout this, Roglič kept his composure.
He launched an attack on the steeper slopes of the climb, but it was to little avail, with Geraint Thomas (Ineos Grenadiers), on a Pinarello Dogma F with a regular groupset, following his every move. Although Roglič did sneak a couple of seconds in the last 100 metres over the Brit, this is to the credit of his legs more so than equipment choice. (Up front, Santiago Buitrago (Bahrain Victorious) took the stage win.)
Finally then, was this also a dry run for the stage 20 mountain time trial? We're not sure if Roglič will use the same setup tomorrow, but the bike seems ready to go if he opts for more gearing!
Thank you for reading 10 articles this month* Join now for unlimited access
Enjoy your first month for just £1 / $1 / €1
*Read 5 free articles per month without a subscription
Join now for unlimited access
Try first month for just £1 / $1 / €1
Joe is Cycling Weekly's tech writer. He's always had a love for bikes, since first riding a two wheeled steed before the age of four. Years down the line, Joe began racing at t 16, and enjoyed great experiences internationally, racing in Italy, Spain and Belgium to name a few locations. Always interested in tech, Joe even piloted his Frankenstein hill climb bike to a Junior National Title in 2018. After taking a step back from elite level racing in April 2022, Joe joined our team as a freelancer, before becoming Tech Writer in May 2023.
More about SRAM Red eTap AXS