21 things you didn't know about Geraint Thomas
Rugby over football, Eminem, podcasts – oh, and some cycling stuff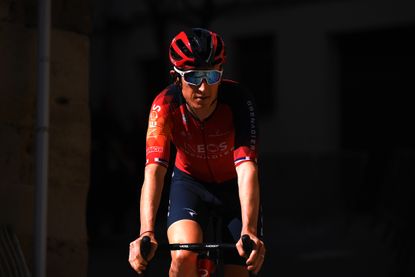 (Image credit: Getty Images)
Swipe to scroll horizontally
| | |
| --- | --- |
| Date of Birth | 25/5/1986 |
| Nationality | Welsh |
| Born | Cardiff |
| Nickname | G |
| Height | 1.83m |
| Weight | 68kg |
| Resides | Monaco |
| Partner | Sara Elen Thomas |
| Turned pro | 2007 |
| Team | Ineos Grenadiers |
| Bike | Pinarello Dogma F |
| UCI wins | 25 |
| Stage race wins | 17 |
| Grand Tour stage wins | 3 |
| Twitter | @geraintthomas86 |
| Instagram | @geraintthomas86 |
Welshman Geraint Thomas is one of the most successful riders Britain has ever seen, with victories at Commonwealth, Olympic and Grand Tour level. He has spent the vast majority of his career with Team Sky and Ineos Grenadiers, where he has become renowned for his wry sense of humour as well as a dependably high level of performance. His crowning achievement was victory at the 2018 Tour de France, but his palmarès certainly does not end there.
1. Geraint Thomas began his cycling career with the Maindy Flyers youth cycling club in Cardiff, aged 10, where he first met current teammate Luke Rowe. He went on to ride for Cycling Club Cardiff and Cardiff Just in Front.
2. When Thomas was 12 or 13, he was already winning medals in Under-16 championships on the track, including the National Championships.
3. His first individual pro victory on the road was a GC win in the week-long German stage race, Bayern Rundfahrt in 2011. He was riding with Team Sky at the time and took the victory despite not winning any stages.
4. Thomas became the first Welshman to win the Tour de France, when he won the race in 2018, beating Tom Dumoulin and Chris Froome into second and third places respectively.
5. After Thomas won the Tour, the Wales National Velodrome in Newport changed its name to the Geraint Thomas National Velodrome.
6. That wasn't the only accolade his historic French win brought him of course – he also won the coveted BBC Sports Personality of the Year award, ahead of F1 driver Lewis Hamilton and footballer Harry Kane in 2018. This is awarded to one of the most celebrated British athletes every year, but as its name suggests, is often given for non-athletic stuff as well as achievements.
7. In October 2019, Thomas was awarded an OBE by Prince William, then Duke of Cambridge. The pair made time for a quick chat about rugby and parenting – particularly pertinent to Thomas at the time, as his son Macsen had just been born.
8. That wasn't the only time Thomas had met the Prince – he had also been awarded an MBE by Prince William in 2009, following Team GB's success in the 2008 Beijing Olympic Games.
9. Talking of Olympic success, Thomas has won a brace of gold medals – both in the team pursuit. One at Beijing in 2008 and another at London in 2012.
10. A decade or so ago, few would have predicted Thomas's Tour de France win, as he was dedicated to the Classics. In 2014 he was seventh at Paris-Roubaix and eighth at the Tour of Flanders – his best results in those races. He also won E3 Harelbeke in 2015. He recently said he still had a "burning desire" to win Paris-Roubaix.
11. Cycling isn't Thomas's only sport. He's a big football fan, and supports Arsenal and Cardiff City. He likes rugby more, but even watches snooker, tweeting about the snooker World Championship final this week.
12. He named the Scrum V rugby podcast as one of those he'll listen to in his down time. He enjoys a footie podcast too. No cycling ones though.
13. Speaking of rugby and football, he went to the same Cardiff comprehensive - Whitchurch High School - as former Wales football captain Gareth Bale and former Wales rugby captain Sam Warburton. Not a bad set of alumni for one comp.
14. He has his own podcast. He began 'Watts Occurring' with Ineos Grenadiers team-mate Luke Rowe during the Tour in 2019, and has since started the Geraint Thomas Cycling Club podcast with Tom Fordyce too. They're both, unsurprisingly, cycling based.
15. As well as being one of Ineos Grenadiers' most successful riders, he's also one of the best footballers on the team – at least that's what he reckons. "I have to say I was one of the best," he said after the team enjoyed a session with OCG Nice during the off-season.
16. His ideal position on the football pitch, he says, would be attacking midfield, wearing number 10. "I would have been like a number 10, just in the pocket. Pinging them all over the shop and taking a few [shots] myself. Making it happen," he said.
17. He might fancy himself as a footballer, but he has been clear about preferring rugby. During the 2018 (football) World Cup in Russia, Thomas tweeted: "The second half of Iran Portugal shows why rugby is by far the better sport #wouldgivetomdaleyarunforhismoney" The hashtag was a diving joke, for those at the back.
18. Thomas's preferred type of music is hip-hop.
19. The Eminem album Marshall Mathers is one of the first albums he bought and listened to. Thomas describes himself as an Eminem fan-boy and says he'd love to meet the US rap star.
20. While the rest of us might snack on a couple of post-dinner biscuits in front of the TV, Thomas opts for a rice cake with a decaf coffee. "On the track it used to be hot chocolate, but on the road weight becomes a bit more of an issue, and decaf has a few less calories. Rock n roll lifestyle it is!" he told the BBC.
21. That said, Thomas does love a Welsh cake. So much so that after all the post-Tour win partying was done, he finished the night off with a celebratory Welsh cake in bed at 4am.
Thank you for reading 20 articles this month* Join now for unlimited access
Enjoy your first month for just £1 / $1 / €1
*Read 5 free articles per month without a subscription
Join now for unlimited access
Try first month for just £1 / $1 / €1