Pendleton and team pursuiters deliver more gold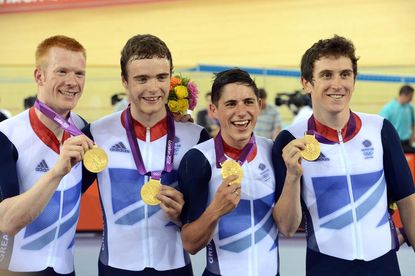 Great Britain's track cyclists took another two gold medals on the second day of track competition at the London Olympics and set more world records on the way.
The team pursuit quartet of Ed Clancy, Steven Burke, Peter Kennaugh and Geraint Thomas set their second world record as they comfortably beat the Australians to retain their Olympic title, while Victoria Pendleton won gold in the keirin.
The two wins means Great Britain have won three golds out of four events, having only missed out on a gold medal ride in the fourth event, the women's team sprint, after being relegated. It's a level of domination not seen from the British team since the Beijing Games in 2008.
The British team pursuiters stopped the clock at 3:51.659 to win gold with a three second buffer over Australia, a massive gap at this level of competition. "I never felt under pressure to be honest," said Britain's Peter Kennaugh afterwards, his first ever Olympic medal around his neck. "I think our ride was so consistent, we were comfortable in the first two kilometres and they were on their limit. We lifted it in the last two k and then held on. They were never coming back."
The margin of victory was a surprise to many. Australia won here in London at the world cup in February and the two were evenly matched at the world championships in April. The two teams - who are light years ahead of everyone else in the event - came to London knowing a world record would be needed to win, but the Australians were never on world record pace in any of their three rides.
Great Britain broke the world record in qualifying on day one, went close to breaking it again in the first round ride early in today's session and then broke it again in the final. "They rode to perfection and were the best team on the day," said Jack Bobridge, the lynchpin of the Australian team. "We rode fantastically on the day and left everything out there and we've come away with silver. We got beat by [a team] who beat the world record."
Britain's female team pursuiters competed in their qualifying round today, and also set a world record. That means that every British track racer who has ridden in a timed event so far has set a world record. It is a mind blowing statistic.
Joanna Rowsell, Laura Trott and Dani King were almost four seconds ahead of the United States in second place. Australia were in third. Great Britain and the USA were the only two teams to set new fastest times here in London. Australia were almost three seconds off their time from the world championships in April. It means the British trio go in to the next two rounds tomorrow as clear favourites for the gold.
Pendleton back to her best
Victoria Pendleton made light work of her opponents in the keirin, her least favourite event and the hardest one to predict. She has been clawing her way back to form for the last year, and has hit her peak just in time, looking every bit as fast as she did four years ago. She won her first two races with ease but the final should have been harder.
Australia's Anna Meares looked just as good as Pendleton and the final looked set to be a battle royale between them. But when Pendleton surged past Meares and hit the front with just over a lap to go the Australian found herself swamped by those hanging on to Pendleton's coat tails.
With the Briton holding her top speed all the way round the final lap, Meares had nowhere to go and finished out of the medals. Afterwards she admitted to getting her tactics wrong on the night and praised Pendleton. "Victoria bounced back today after the disappointment she faced in the team sprint, and I think that's exemplary of a champion."
Pendleton said; "It would have been nice to win a medal in all three of them, but these things happen. After I finished in the track I went outside and had a little cuddle with my baby nephew Nathan who's ten months old. That put it in perspective. When he's a few years older I'll tell him how he made everything seem all right tonight."
Pendleton shows off the second Olympic gold of her career
Pendleton beats China's Shuang Guo to keirin gold
Steven Burke leads British team pursuiters as they defend their Olympic title
Thank you for reading 20 articles this month* Join now for unlimited access
Enjoy your first month for just £1 / $1 / €1
*Read 5 free articles per month without a subscription
Join now for unlimited access
Try first month for just £1 / $1 / €1