Prudential RideLondon: Details announced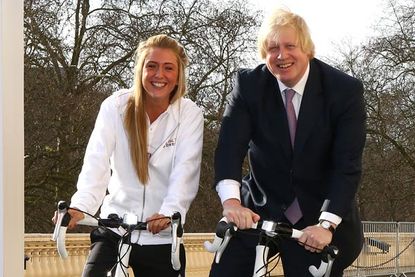 (Image credit: Getty Images)
Details of RideLondon, the Olympic and Paralympic legacy mass participation and elite events, were unveiled last night with insurance group Prudential stepping up as title sponsor of the four events that will take place over the weekend of August 3 and 4.
The Prudential RideLondon-Surrey 100 mass participation ride and the Prudential RideLondon-Surrey Classic elite event, both on August 4, will begin at the Olympic Park and head to Canary Wharf before tracing the route of the Olympic Games road races through central London and into Surrey via Richmond Park.
Both events will take in Leith Hill and Box Hill before routing through South West London to the finish on The Mall. At 140 miles the elite event will make up the extra 40 miles of distance through three ascents of Leith Hill.
Remarkably the race, which will be ranked UCI 1.1 and feature 25 teams of six riders, will, along with the mass participation event, take riders through the narrow landmark of Admiralty Arch just metres before the finish.
Participants in the RideLondon-Surrey 100 will start ahead of the elite event and will have a nine-hour cut-off to ensure the elite event does not overlap.
An eight-mile 'FreeCycle' event will also take place on Saturday August 3 along with a women's circuit race, the RideLondon Grand Prix.
Speaking on the event website ahead of the official launch in London this morning, Mayor of London Boris Johnson said, "following the superhuman efforts of our Team GB cyclists last year, thousands of cycling enthusiasts, both experienced and amateur, riding a fantastic route through the streets of our fine city is surely a fitting legacy.
"I am delighted that six months on from Laura Trott's breathtaking gold in the Omnium we are in a position to announce the routes and title sponsor. Prudential RideLondon is sure to become one of the world's top cycling events, the countdown to the start of the event begins now."
Those who applied to the ballot of the mass-participation event are expected to find out if their application has been successful today (Thursday, February 7).
Prudential were title sponsors of a former incarnation of the Tour of Britain in 1998 and 1999, the PruTour.
Mayor of London Boris Johnson and Olympic champion Laura Trott with Tidjane Thiam and children from the Field End junior school

Click on the route map below to enlarge image in a new window

Related links
50,000 register for RideLondon cycle challenge
25,000 register for Ride London
Ride London Olympic cycling legacy event launched
External link
Thank you for reading 20 articles this month* Join now for unlimited access
Enjoy your first month for just £1 / $1 / €1
*Read 5 free articles per month without a subscription
Join now for unlimited access
Try first month for just £1 / $1 / €1