Australia dominate final day of World Cup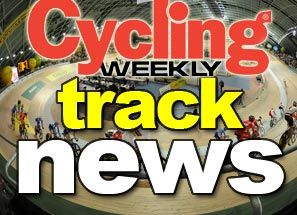 Great Britain won bronze in the team pursuit at the Track World Cup in Melbourne on Saturday as arch-rival Australia smashed an all-comers record to win gold.
The British, after a strong start, lost Beijing Olympic gold medallist Ed Clancy at the 2km mark and just held off New Zealand who pulled back almost two seconds in the last kilometre.
Britain won the bronze in 4-01.456 after qualifying third fastest earlier in the day.
The team was on schedule at the beginning of the qualifier but faded in the final kilometre with Jason Queally found out in the end. Luke Rowe replaced Queally in the bronze medal final.
Heiko Salzwedel's Russian contingent spoiled a velo Ashes battle qualifying second fastest (4-01.511) behind the Australians (4-00.388).
The Aussie quartet of team pursuit world champions Jack Bobridge, Cameron Meyer and Michael Hepburn as well as Leigh Howard won in 3-56.913 - the fourth fastest time by Australia in the team pursuit and the fastest time ridden in Australia.
Clancy competed in three omnium rounds, finishing third overall, on Friday and admitted the combination of both events had taken a physical toll.
"I was cooked after the omnium," Clancy said.
"Luke [Rowe] and Jason Queally, they're new guys to the team so we had Burkey and Tennant going strong. Given that, I think we're pretty happy to win the bronze medal. I think we made the best out of a bad situation. We came here just wanting to qualify."
In the men's sprint Jason Kenny pushed Australian Shane Perkins to a best-of-three final.
Perkins won the first race in a photo finish but Kenny responded in the second gaining height and forcing his Australian rival to accelerate at the bottom of the track making it one all.
However, Perkins came back strong to claim Australia's fourth gold medal of the night ahead of Kenny and Teun Mulder from the Netherlands.
"I gave it my best shot but he just had the edge in the last one," Kenny said after the race.
"In the second one he made a little mistake, he wasn't going fast enough - for once - with one lap to go and I had to capitalise on that. I think he recognised fairly early what he'd done and did the right thing and sat up to save himself for the last one.
"The last one I was really struggling to try and get some control in the race and get him to where I wanted to. In the end he just ran away. He really pulled that one out of the bag at the end of a long day."
Britain's Jess Varnish finished sixth in the 500m time trial behind gold medallist Anna Meares, who also won the women's keirin final, while Spain's Leire Olaberria took out the women's omnium.
The home nation dominated on the final day of competition collecting four of the five gold medals on offer.
Great Britain: Medals
Gold: Men's team sprint (Hoy, Crampton, Kenny)
Gold: Sir Chris Hoy, Keirin
Silver: Jason Kenny, sprint
Silver: Victoria Pendleton, sprint
Silver: Women's team sprint (Pendleton, Varnish)
Bronze: Men's team pursuit (Clancy, Tennant, Rowe, Burke)
Bronze: Ed Clancy, omnium
Results
Women's 500m TT
1. Anna Meares (Australia) 33.593
2. Sandie Clair (France) 33.667
3. Wai Sze Lee (Hong Kong) 33.939
4. Willy Kanis (Netherlands) 33.952
5. Olga Panarina (Belarus) 34.161
6. Jess Varnish (Great Britain) 34.501
Men's team pursuit
1. Australia (Bobridge, Hepburn, Howard, Meyer) 3-56.913
2. Russia (Khatuntsev, Kovalev, Markov, Serov) 4-02.354
3. Great Britain (Clancy, Burke, Rowe, Tennant) 4-01.456
4. New Zealand (Archbold, Gate, Karwowski, Simpson) 4-01.602
Men's sprint
1. Shane Perkins (Australia)
2. Jason Kenny (Great Britain)
3. Teun Mulder (Netherlands)
Women's omnium: Final standing
1. Leire Olaberria (Spain) 26 points
2. Tara Whitten (Canada) 31 points
3. Malgorzata Wojtyra (Poland) 40 points
Women's keirin
1. Anna Meares (Australia)
2. Kaarle McCulloch (Jayco-Australia)
3. Clara Sanchez (France)
4. Jinjie Gong (China)
5. Sandie Clair (France)
6. Kristina Vogel (Germany)
Related links
Melbourne World Cup, day two report: Hoy scores keiring gold in Melbourne
Melbourne World Cup, day one report: Gold for GB men, silver for women sprinters
GB squads for Mebourne and Cali World Cups
GB sends full-strength men's squad to Melbourne World Cup
Subscribe to Cycling Weekly: The perfect Christmas gift>> (opens in new tab)
Thank you for reading 10 articles this month* Join now for unlimited access
Enjoy your first month for just £1 / $1 / €1
*Read 5 free articles per month without a subscription
Join now for unlimited access
Try first month for just £1 / $1 / €1
Sophie Smith is an Australian journalist, broadcaster and author of Pain & Privilege: Inside Le Tour. She follows the WorldTour circuit, working for British, Australian and US press, and has covered 10 Tours de France.