Bottrill wins time trial series opener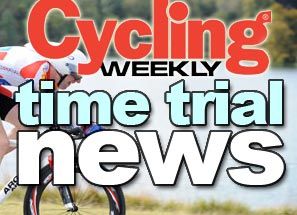 2011 National Time Trial Series winner Matt Bottrill (Drag2zero.com) made an emphatic start to his title defence with victory in the opening round at Litchborough in Northamptonshire on Sunday.
Bottrill clocked 40-12 to hold off talented espoir Sam Harrison (100 Per Cent ME) while Bottrill's new team-mate Jeff Jones took third, 40 seconds behind.
After securing an easy victory in the previous weekend's A5 Rangers 31-mile event in the same county, Bottrill threw down the gauntlet to his rivals for the 2012 crown with a speed of almost 28mph.
London Dynamo's Rebecca Slack was fastest of the women over the 19-mile course with 46:51, while new veteran Julian Ramsbottom (Scunthorpe Poly CC) was top vet with 42-22, a time which would've placed him sixth in the senior event.
Elsewhere, there were a raft of 10-mile time trials across the country and, coupled with the relatively warm weather, there were some impressive times posted.
Maldon and District CC's Scott Cousins won the Eastern Counties CA event at Six Mile Bottom in Cambridgeshire by six seconds with his time of 20-07, pushing Chelmer CC's Richard Evans into second while Dean Lubin (Ciclos Uno) was just a second slower in third.
High Wycombe CC's Adam Topham sliced a whopping 59 seconds from the course record in the Sotonia CC 10 at Winsor in Hampshire, clocking 20-50 to beat former course record holder Harry Bulstrode (Contre La Montre) into second spot by 25 seconds.
While Bottrill was winning the opening round of the National Series for Drag2Zer.com, other riders were tackling less prestigious events elsewhere with equal success.
Jon Simpkins won the VC Sevale 10 at Severn Stoke in Worcestershire, clocking 20-26 to win by 19 seconds from Simon Harradine (Team Echelon Rotor).
And in Suffolk Mark Arnold (Team Pedal Revolution.co.uk) won the Plomesgate CC 10 at Sudbourne with a cracking time of 21-54 for the sporting course, more than a minute quicker than his nearest rival.
And on similarly challenging roads, Rupert Burbidge (In Gear-Quickvit) won the Southern Counties CU 10 at Oakwood Hill in Surrey, clocking 2-32 to win by 23 seconds from London Dynamo's James Stratton.
Over longer distances, Team Swift secured a one-two in the Harrogate Nova 24-mile event near Ripon in North Yorkshire on Saturday.
Aylesford-based Steve Berry took the win with 52-51, while Joel Wainman was 26 seconds further back in second. And they won the team prize, with fifth-placed Mark Wolstenholme being the third counter. 22-year-old Triathlete Philip Graves (Clifton CC) was third.
And even further north in the Teesdale CRC 24.4-mile event in County Durham, John Tuckett won the SPOCO event with a time of 56-18, 15 seconds ahead of Ferryhill Wheelers' Keith Murray.
Related links
Time trial news section
Thank you for reading 10 articles this month* Join now for unlimited access
Enjoy your first month for just £1 / $1 / €1
*Read 5 free articles per month without a subscription
Join now for unlimited access
Try first month for just £1 / $1 / €1
Snowdon Sports is a long-established independent sports news agency, which supplies editorial to a range of media outlets - such as Cycling Weekly - as well as sports governing bodies. Snowdon Sports often covers results at Cycling Time Trials events in the UK and has long been a source of information and imagery to Cycling Weekly.