Bradley Wiggins's custom Tour of Qatar time trial bike
One-off edition of the Pinarello Dogma F8 made for the middle eastern race.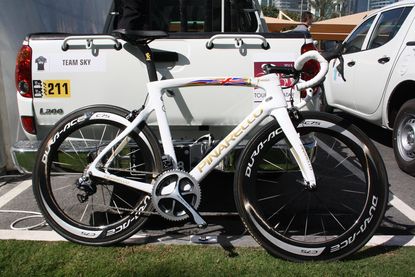 With race rules forbidding the use of time trial bikes in Tuesday's 10-kilometre stage against the clock, Bradley Wiggins will make his first outing as World Champion in the Tour of Qatar on this custom Pinarello Dogma F8 road bike.
"I can't remember the last time I did an individual time trial on a road bike, so it's hard to predict what people will do," he admitted ahead of the pan-flat test around Lusail.
It's safe to say the bike is visually, rather than mechanically different, to what Wiggins is used to. "It matches the kit, more than anything," he said.
The Dogma F8 is equipped with Shimano Dura Ace C75 wheels and Di2 electronic shifting.
No mistaking whose bike this is.
The top tube (above and below) uses the adopted Mod logo to detail Wiggins's World and Tour de France titles.
The bike uses a Shimano Dura-Ace FC 9000 177.5mm crank (56-44T), and is also equipped with a Stages power meter.
Wiggins's bike also comes equipped with the tidy Shimano Dura-Ace Di2 RD-9070 rear derailleur.
"It's got smaller handlebars and a lower stem just to get as much into time trial mode as possible," added Wiggins. There are no spacers between the headtube and stem, the latter of which is seemingly still at his preferred 137mm length.
Never a team to miss a trick, the bike comes with Elite's rainbow-striped Custom Race bottle cage.
The Dogma F8's truncated airfoil tube profiles - dubbed "FlatBack" - extend to the bike's seat post. Wiggins's (in the foreground) features the Sky logo in gold, in comparison the normal version as seen behind it on another riders' bike in black. Seemingly no change has been made to his 812mm saddle height and 100mm saddle setback. Wiggins rides Fizik's carbon-reinforced nylon Arione saddle, which weight 225g.
Thank you for reading 20 articles this month* Join now for unlimited access
Enjoy your first month for just £1 / $1 / €1
*Read 5 free articles per month without a subscription
Join now for unlimited access
Try first month for just £1 / $1 / €1