Charles Taylor takes National 100-Mile Time Trial Championship title
British time trial round-up (July 12-13): News and results from around the UK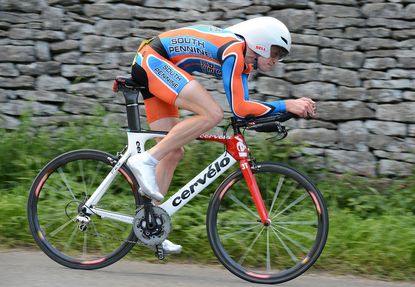 (Image credit: Andy Jones)
Charles Taylor was crowned winner of the National 100-Mile Championship after recording the quickest time on the Swaffham course in Norfolk on Sunday.
The South Pennine RC rider's time of 3:43:28 was enough to take top spot although it was some way off beating any standing records.
High Wycombe CC man Adam Topham finished second with a time of 3:45:37 and Tejvan Pettinger showed his versatility over different distances by finishing third.
The Sri Chinmoy CT member added a National Championship 100 bronze medal to his National Hill Climb title with a time of 3:51:23.
Bronwen Ewing won the women's event for Trainsharp Racing Team as her time of 4:11:26 was enough to beat Paula Moseley of Climb on Bikes RT into second place. Moseley's time of 4:15:10 was 3:10 quicker than third-placed Lucy Gossage of Cambridge CC.
Elsewhere, Prolific winner Matt Bottrill (Drag2zero.com) notched up the second fastest 30-mi8le time ever recorded in this country when he broke the course record at the Mercia CC 30 on the Etwall to Uttoxeter course near the Derbyshire/Shropshire border on Saturday.
Bottrill, the National 50-mile record holder, clocked an impressive 56-15 to win the event by almost a minute and a half from Matt Clinton (Mike Vaughan Cycles) with 57-37, while Matt Sinclair (Lutterworth Cycle Centre) was third with 59-09.
"I'm made up with the time," said Bottrill, whose performance equates to three consecutive ten-mile times of 18-45.
"It was always going to be hard to break the Competition Record on this course with the leg up to Doveridge being such a hard road. But I've still ridden at 32mph for 30 miles which is pretty special."
Conall Yates (In Gear-Quickvit RT) clocked 19-39 to win the Crawley Wheelers 10-mile event on the Horsham course in West Sussex by 24 seconds from Chris McNamara (Pedal Heaven-Colbornes), while Ian Brogdon (Eastbourne Rovers) was third in 20-35.
But the times may have been event quicker, were it not for the roadworks which forced the organisers to move the start position mid-race.
In Berkshire, Tim Cartwright led a one-two for Newbury Rc in the West London CA 50 at Aldermaston when he clocked 1-48-55 to leave team-mate Ian Greenstreet second by almost five minutes with 1-53-34.
Third spot went to William Grainger (Andover Wheelers) with 1-55-58, while fastest female was another Newbury Road Club rider Claire Kitching who clocked 2-11-34 who was 48 seconds ahead of Claire Taylor (Kingston Wheelers).
Meanwhile, the R25/3l course in South Wales produced a raft of fast times and personal bests, with Keiron Davies (Team NBCC) winning with 48-04 for the Glynneath course.
That gave him victory by 1-03 from Ben Anstie (Cadence RT), while Justyn Cannon (RAF CA) was just three seconds further back in third place.
British road race round-up (July 12-13): News and results from around the UK
Thank you for reading 20 articles this month* Join now for unlimited access
Enjoy your first month for just £1 / $1 / €1
*Read 5 free articles per month without a subscription
Join now for unlimited access
Try first month for just £1 / $1 / €1