Hayley Simmonds wins women's 10-mile time trial title
Thomas Baylis and Hetty Niblett take junior national 10-mile time trial titles in Warwickshire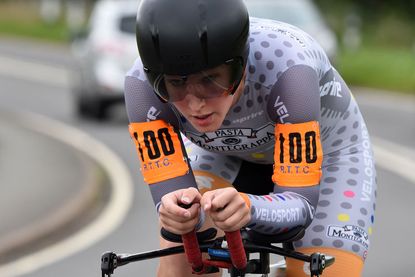 (Image credit: Andy Jones)
Last to start and admitting to pre-race nerves, Hayley Simmonds (Velosport-Pasta Montegrappa) rose to the challenge to win Saturday's RTTC national women's 10-mile championship and add to the 50-mile title she secured back in June.
The 26-year-old covered the Alcester-based course, in Warwickshire, in 21-43 for a winning margin of 18 seconds over Bronwen Ewing (Trainsharp RT), whose team-mate Rebecca Rimmington, 22-19, completed the podium.
"I was pretty nervous on Friday and on the morning, so I was kind of very happy but also slightly relieved when I saw my time at the finish," said Simmonds, from Cambridge, who – second in the national '25' at the start of August – also made sure of winning the Beryl Burton Trophy for aggregate championship performances over the season.
"The '10' is my event at the moment, I really wanted to win so I put a bit of pressure on myself, and I've never been top seed before so I also felt some pressure from that. But going off last was nice because I could get a time check on the other girls, and when I saw the 'up' arrow I told myself to just keep going as I am.
"It was a bit blustery, but to be honest I quite like the hard races. I was a little bit worried because I rode the course in May and got held up at the last roundabout by a couple of cars, but the marshals were all very good and really it was a perfect day."
Sixth-seed Thomas Baylis (HARIBO Beacon RT) took the junior men's title in 20-15, just four seconds quicker than Gabriel Evans (London Dynamo), with his own team-mate Joe Evans, 20-25, in third place.
The junior girls title went to Hetty Niblett (Mid Shropshire Wheelers) in 24-11, six seconds faster than Amira Mellor (Paul Milnes Cycles RT), while Nixie Turner (Worcester St Johns CC) and Jennifer McAndrew (Witham Wheelers) tied for third in 24-19.
National Championship 10 (Women)
Hayley Simmonds (Velosport-Pasta Montegrappa) 21-43
B. Ewing (Trainsharp RT) 22-01
R. Rimmington (Trainsharp RT) 22-19
N. Juniper (Team Echelon- Rotor) 22-24
E. Robertson (CC Luton) 22-26
J. Blackburn (Team Swift) 22-31
A. Vahiboglu (Exeter Whs CC) 22-40
J. Muller (Kingston Whs CC) 22-53
V. Gill (www.drag2zero.com) 22-56
L. Powell (Mike Vaughan Cycles) 22-57
National Championship 10 (Juniors)
Thomas Baylis (Haribo Beacon RT) 20-15
G. Evans (London Dynamo) 20-19
J. Evans (Haribo- Beacon RT) 20-25
M. Langworthy (Mid Devon CC) 20-33
B. Mcintosh (Crewe Clarion Whs) 20-40
L. Bulley (Sports Traider RT) 20-55
T. Robbins (BH Solidor WAM Youth) 20-57
J. Garratt (Welland Valley CC) 21-05
A. Brown (Glasgow CT- SCU) 21-31
J. Yates (In-Gear Quickvit Trainsharp RT) 21-34
Thank you for reading 10 articles this month* Join now for unlimited access
Enjoy your first month for just £1 / $1 / €1
*Read 5 free articles per month without a subscription
Join now for unlimited access
Try first month for just £1 / $1 / €1
Snowdon Sports is a long-established independent sports news agency, which supplies editorial to a range of media outlets - such as Cycling Weekly - as well as sports governing bodies. Snowdon Sports often covers results at Cycling Time Trials events in the UK and has long been a source of information and imagery to Cycling Weekly.