Matt Bottrill takes British 10-mile time trial title with new record
Matt Bottrill breaks championship record with second-fastest British 10-mile time ever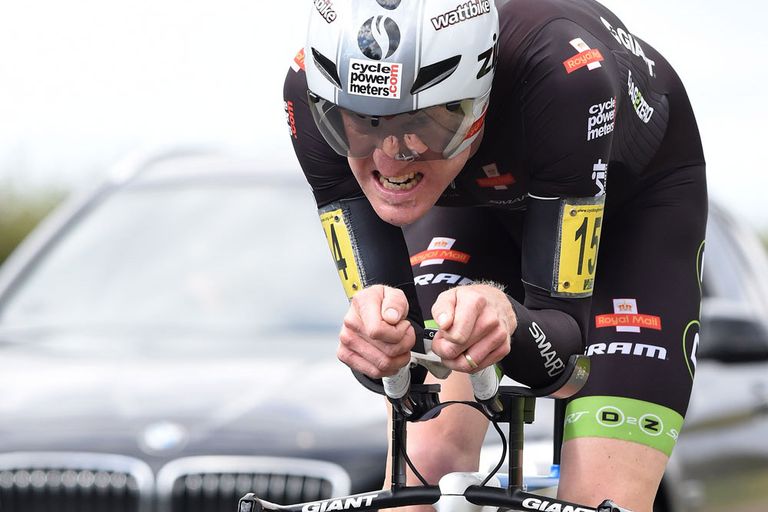 (Image credit: Andy Jones 2014)
Domestic time trialling's man of the year, Matt Bottrill (www.drag2zero.com) added the RTTC national 10-mile championship to his 25 and 50-mile titles in a festival of speed on the V718/1 course in East Yorkshire.
Bottrill clocked 17-40, the second-fastest time on record behind Alex Dowsett's 17-20 from earlier this year and a championship record, to win Sunday afternoon's event on the South Cave course by just two seconds from former junior champion Ryan Mullen (An Post-Chain Reaction-Sean Kelly).
Defending champion Michael Hutchinson (In-Gear Quickvit Trainsharp RT) was pushed into third place in 17-53 while Russell Hampton (Team Athlon Sport Cloudnine Telecoms), 17-58, finished a close-up fourth on a day when 24 riders dipped inside 19 minutes and no less than 86 in the field broke the 30mph barrier.
A bonus for Bottrill was a share of the team title and a new competition record with Mark Jones, 18-41, and Dan Barnett, 19-00, giving www.drag2zero.com an aggregate 55-21 to improve Team Swift's previous mark by 55 seconds.
"I'm so made up," said Bottrill. "To do this on top of everything else is the icing on the cake. You go into a season wanting to win all the championships you ride, then you ask yourself if it is possible, and when you've done it it's a bit surreal.
"It will take some time to sink in.
"I always knew it would be close, I knew how well Ryan was going and it would take some ride to best him. I didn't have any time checks – I was on the rivet all the way, at speeds like that you've got to be, and if I'd been told I was two seconds down with a couple of miles to go I couldn't have done any more.
"It's mad really. Ryan was two minutes behind me, I saw him come in and I couldn't call it either way.
"I was so nervous going into it, the expectation was that much more after what I'd done before and this is the hardest one to get right, it's so fast that you can't make one mistake.
"I'll be up for work at 4.15 so I'll be lucky if I get four hours sleep, but when I wake up I'll still have a smile on my face."
National Championship 10 (Men)
Matthew Bottrill (www.drag2zero.co.uk) 17-40
R. Mullen (An Post Chain Reaction Sean Kelly-Foreign) 17-42
M. Hutchinson (In-Gear Quickvit Trainsharp RT) 17-53
R. Hampton (Team Athlon Sport- Cloudnine Telecoms) 17-58
A. Jackson (Team Swift) 18-02
M. Clinton (Mike Vaughan Cycles) 18-05
E. Bradbury (Cambridge University-Hunter Gibson-Chain Reaction) 18-15
B. Harwood (Terry Wright Cycles RC) 18-29
D. Crawley (Fibrax- Wrexham RC) 18-29
B. Pond (North Devon Whs) 18-33
Matt Bottrill celebrates
Photos from the 2014 British National 10-mile time trial championship
Thomas Baylis and Hetty Niblett take junior national 10-mile time trial titles in Warwickshire