You can now buy Felt's left-hand drive track bike for just $26,000
The left-hand drive track bike ridden by the USA team at the Rio 2016 Olympic Games has gone on sale for a very high price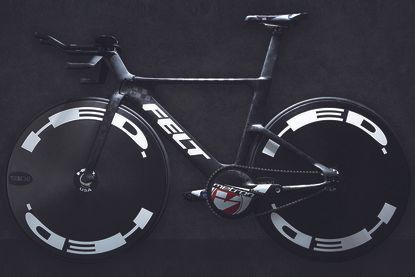 The USA track cycling team caused a bit of a stir before the Rio 2016 Olympic Games when they revealed they would be riding a bike with the drive train on the left-hand side and now you can buy one yourself, if you're loaded...
It seemed like a relatively minor adjustment, but one the cycling world hadn't really seen before, with manufacturers Felt believing it would be more aerodynamic than a traditional design when travelling anti-clockwise round the track.
As part of the UCI's rules, however, the bike has to be made available for general sale, giving members of the public access to this high-end tech for the pricely sum of $26,000.
Felt spokesman Michael White said the company expects to sell a handful, which is optimistic given the prohibitively expensive price tag.
"The price does seem astronomical at first glance, but interestingly, when you factor in the costs of what you're getting, it's actually not too bad a value," he said.
"We're confident enough to say that this is the most advanced track frame in the world, and it comes with two sets of wheels (including double HED discs), multiple custom parts like two different FSA cranks, Stages power meter, custom bike box, CeramicSpeed bearings, etc. And each customer will receive a custom front-end and handlebar assembly made for their measurements."
The bike was designed in an attempt to beat Team GB at the Olympics, which it memorably didn't in any of the endurance events. It did, however, set a new world record in the women's team pursuit, but it only lasted about five minutes until the Brits took it back again.
So, if you're looking for a Christmas present for your track cycling obsessed partner/friend/family member, look no further.
Thank you for reading 20 articles this month* Join now for unlimited access
Enjoy your first month for just £1 / $1 / €1
*Read 5 free articles per month without a subscription
Join now for unlimited access
Try first month for just £1 / $1 / €1