Cyclocross World Championships 2018: Evie Richards and Ben Tulett give Great Britain double gold
British riders win opening two races of Cyclocross World Championships in Valkenburg, as Sanne Cant successfully defended the elite women's title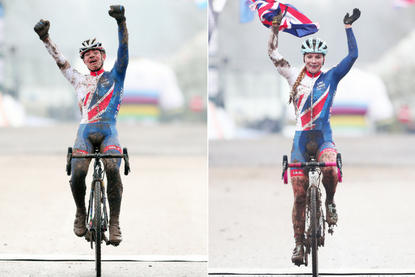 (Image credit: SWPix.com)
Evie Richards and Ben Tulett delivered double gold for Great Britain on the first day of the Cyclocross World Championships as they won the under-23 women's and junior men's races respectively.
The first race of the championships saw first-year junior Ben Tulett take victory in the junior men's race to give Great Britain their second rainbow jersey in the event in as many years.
After Tom Pidcock topped the podium as part of a British 1-2-3 at 2017 World Championships (with Ben's brother Dan in second place), there was a lot for Tulett to live up to in muddy conditions in the Netherlands.
Ranked sixth in the world going into the race, Tulett started conservatively as Loris Rouiller (Switzerland) and Tomas Kopecky (Czech Republic), the World Cup winner and runner-up and the top two riders in the world, established an early lead on the first lap.
However Tulett was soon back on terms with a number of other riders, before putting in his first big effort of the race to establish a solo lead on a running section on the second lap.
The 16-year-old's advantage was quickly up to around 15 seconds where it remained for a while, before Kopecky counter-attacked to join his British rival by the start of the final lap.
Kopecky was the first to make his move, briefly gapping Tulett, before the Brit counter-attacked with a decisive attack with around half a lap to go.
Kopecky had no answer to Tulett's move, and found himself on the defensive as Ryan Kump (Netherlands) closed in behind, while Tulett crossed the line alone to take the rainbow jersey with more than 20 seconds to spare.
After Tulett's victory, the British team had to wait just two hours to pick up their next rainbow jersey as Evie Richards reclaimed the under-23 women's race which see first won in 2016.
While Tulett had company for most of the race, Richards was already 21 seconds ahead with her highly impressive 16-year-old compatriot Harriet Harnden in second place.
The second lap saw more serene progress from Richards while Harnden was caught by Ceylin del Carmen Alvarado (Netherlands) and Nadia Heigl (Austria), before a slight moment of drama as a problem with her derailleur saw Richards stuck spinning away in a small gear.
However such was her lead that Richards never looked like being caught, eventually crossing the line in isolation with her lead back up to 38 seconds.
Behind Alvarado had dropped Heigl to take second, while Harnden held on for fourth to cap a superb race for Great Britain.
In the final race of the day Sanne Cant (Belgium) successfully defended her elite women's rainbow jersey as she dropped Katie Compton (USA) on the final lap, with Lucinda Brand (Netherlands) in third.
Cant and Compton were towards the front of affairs from the very start of the race, with Cant surging away to lead by nine seconds over Christine Majerus (Luxembourg) and 12 seconds over Compton at the end of the first of four laps.
Compton worked her way pass Majerus and steadily rode up to the back wheel of Cant over the course of the second lap to set up the ding-dong head-to-head battle that would characterise the final two laps.
Mistakes and repeated accelerations from both women swung the momentum one way then another, with Compton enjoying a slim advantage over a tired-looking Cant at the start of the final lap.
However Cant still had reserves in the tank, taking a new bike in the pits and catching her American rival in the process, before Compton made a final costly mistake that allowed Cant to surge clear.
From there there was no stopping Cant, who had been strong on the running sections all day and extended her lead up a final steep ban with a quarter of a lap remaining, eventually crossing the line with an advantage of 12 seconds.
Behind a similar battle had been fought between Brand and Majerus, with Brand coming out the victory as she distanced her Luxembourgish rival on the final lap to take her first Cyclocross World Championship medal.
Results
UCI Cyclocross World Championships 2018: Junior Men
1. Ben Tulett (GBr), in 41-19
2. Tomas Kopecky (Cze), at 22 secs
3. Ryan Kamp (Ned), at 30 secs
4. Tom Linder (Ger), at 34 secs
5. Lane Maher (USA), at 35 secs
6. Pim Ronhaar (Ned), at 36 secs
7. Mees Hendrikx (Bel), at 48 secs
8. Gerben Kuypers (Bel), at 55 secs
9. Ryan Cortjens (Bel), at 59 secs
10. Thibault Valognes (Fra), at 1-10
UCI Cyclocross World Championships 2018: Under-23 Women
1. Evie Richards (GBr), in 37-52
2. Ceylin del Carmen Alvarado (Ned), at 38 secs
3. Nadia Heigl (Aut), at 1-04
4. Harriet Harnden (GBr), at 1-24
5. Fleur Nagengast (Ned), at 1-40
6. Sara Casasola (Ita), at 1-40
7. Emma White (USA), at 1-59
8. Marion Morbert Riberollen (Fra), at 2-03
9. Adela Safarova (Cze), at 2-03
10. Laura Verdonschot (Bel), at 2-41
UCI Cyclocross World Championships 2018: Elite Women
1. Sanne Cant (Bel), in 49-34
2. Katie Compton (USA), at 12 secs
3. Lucinda Brand (Ned), at 26 secs
4. Christine Majerus (Lux), at 55 secs
5. Elisabeth Brandau (Ger), at 1-26
6. Kaitlin Keough (USA), at 1-45
7. Eva Lechner (Ita), at 1-49
8. Elle Andersen (USA), at 1-57
9. Marlene Petit (Fra), at 2-10
10. Carline Mani (Fra), at 2-38
Thank you for reading 20 articles this month* Join now for unlimited access
Enjoy your first month for just £1 / $1 / €1
*Read 5 free articles per month without a subscription
Join now for unlimited access
Try first month for just £1 / $1 / €1