'I feel awful now': Dan Evans on his amazing power output in National Hill-Climb victory
The double champion averaged 506 watts in the race up Hedley Hill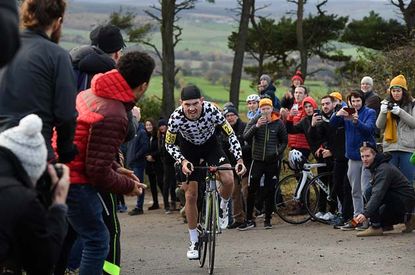 (Image credit: Andy Jones)
Newly crowned double national hill-climb champion Dan Evans scored a power PB on his way to winning the championship at Hedley Hill, Northumberland, on Sunday.
Welshman Evans, 36, told Cycling Weekly how he averaged 506 watts for the 3-54 it took him to climb the 1,572m course, which averages 7.5 per cent.
"My previous PB was 504 watts for four minutes on Jackson Bridge, which is a steeper climb and a more constant gradient, so easier to keep your power up. Whereas yesterday with the changes in gradient and the dips and gear changes it's harder to keep your power up.
"So although it's only two watts further on from the previous PB I think on that sort of course it was a real big performance – bigger than anything I've done this year."
That gave Evans, who is 5ft 9in and "bang on 64kg – not quite as light as I'd hoped to be" before his winning ride, a power-to-weight ratio of eight watts per kilo.
"For the first minute I rode totally to power and then after that it's just dig in and do what you can do really," said Evans.
"For that first minute my target was 550 watts but I was between 600 and 550.
Watch: Is this the ultimate hill-climb bike?
"I think at the halfway point I was eight seconds up – though that hasn't been confirmed yet – so although I was riding to power I probably still overcooked it in the first half.
"At the end I was five seconds up on Adam Kenway [the defending champion] so he's pulled three seconds back.
"Chatting to Adam on the start line he didn't have power meter or a Garmin on. I was quite surprised by that.
"I tell you what I'm really, really ill today," said Evans.
"I feel awful. All the caffeine in the build-up to it with no food and then all the crap food I ate last night I'm not feeling great. But I can chill out a bit now."
Thank you for reading 20 articles this month* Join now for unlimited access
Enjoy your first month for just £1 / $1 / €1
*Read 5 free articles per month without a subscription
Join now for unlimited access
Try first month for just £1 / $1 / €1