Giro d'Italia announces long time trial through Chianti for 2016 race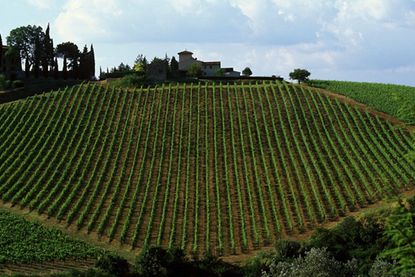 Stage nine of the 2016 Giro d'Italia will see riders take on a rolling 40km time trial through the Chianti region, organisers RCS Sport announced in London on Monday (September 7).
The 'Consorzio Chianti Classico' stage, starting in Radda and finishing in Greve on May 15, was unveiled at the Pinarello store in the capital by Giro director Mauro Vegni and Fausto Pinarello - a long-term sponsor of the race.
With the Chianti region renowned for its wineries and hills it's no surprise to discover that there's barely a metre of flat land on the 40.4km route aas the riders speed through the Gallo Nero vineyards.
Doctor Hutch explains the tactics of a long time trial
"This is going to be one of the most spectacular stages of the Giro 2016, both in a technical, riding respect as well as for its unique scenery," said Vegni. "A 40km Individual Time Trial without a single metre of flat and almost at the middle of the race, will define for sure who the potential winners are.
In 2015 the Giro featured 59.4km time trial, which saw Alberto Contador move back into the pink jersey - a lead that he didn't give up for the rest of the race.
The 2016 race will start in the Netherlands, with a short time trial around Apeldoorn before two flat stages round the Gelderland region between May 6-8.
Thank you for reading 20 articles this month* Join now for unlimited access
Enjoy your first month for just £1 / $1 / €1
*Read 5 free articles per month without a subscription
Join now for unlimited access
Try first month for just £1 / $1 / €1