Leak confirms Dutch start for 2016 Giro d'Italia
The 2016 edition of the Italian Grand Tour is expected to start near the Dutch-German border, rather than further north as previously rumoured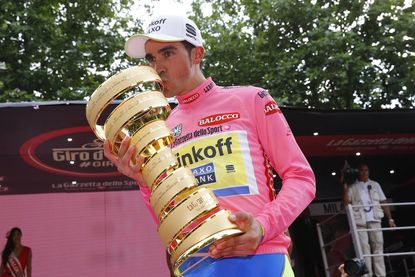 (Image credit: Watson)
The Giro d'Italia will travel abroad again in 2016. Instead of staying in Italy, the three-week Grand Tour will kick off in Nijmegen, the Netherlands, next May.
Organiser RCS Sport has yet to confirm the news. If it were to happen, it would be the third start in the Netherlands and the first since Sir Bradley Wiggins won the first stage and wore the pink jersey in Amsterdam in 2010. It would also follow in the Tour de France's footsteps, which begins in the Netherlands for the sixth time on July 4.
Italian website Tutto Bici reported yesterday that Nijmegen, which sits on the Waal River and borders Germany, will host the Giro's Grand Départ. Previously, Apeldoorn to the north had been rumoured as the start city.
"During a meeting yesterday for the Naples bike festival," read the article,"Jos Sluijsmans, president of Fietsdiensten.nl and Dutch cycling ambassador, announced in his report that the 2016 Giro d'Italia will begin in the Netherlands. From Nijmegen, his hometown, to be precise."
>>> Should the Giro d'Italia or Vuelta a Espana be shortened to two weeks?
RCS Sport could announce the start host of its 2016 race this month. In June 2013, it announced Belfast would host the start of the 2014 Giro d'Italia – the last time the race began abroad.
The Giro d'Italia first went "abroad" to enclave San Marino in 1965. In 2002, it kicked off in Dutch city Groningen before travelling through Belgium, Germany and Luxembourg to reach Italy.
In recent years, the Giro has begun on foreign soil once every two editions. RCS Sport is able to promote its race to wider audiences and dig into deeper cash pockets.
The Belfast Telegraph estimated the communities paid around £3.8m to host 2014 Giro d'Italia. Last August, the Liguria region approved a €2m (£1.46m) investment to host the start of the 2015 Giro.
Race director, Mauro Vegni did not say where the Giro would start when the 2015 edition concluded on May 31 with Spaniard Alberto Contador (Tinkoff-Saxo) in the pink jersey.
>>> Contador: My Tour de France starts now
He did say that he believes that the race should touch as much as of Italy as possible, adding that the 2016 edition would likely reach deeper south than it did in 2015.
If the race does start in the Netherlands, it would likely stay there for three days. Some reports suggest that the Giro could then travel through neighbouring countries as it did in 2002 before returning to complete the three-week race on home soil.
Thank you for reading 20 articles this month* Join now for unlimited access
Enjoy your first month for just £1 / $1 / €1
*Read 5 free articles per month without a subscription
Join now for unlimited access
Try first month for just £1 / $1 / €1