Svein Tuft: 'a dream come true' at the Giro d'Italia
Canadian Svein Tuft reflects on his leadership of the Giro d'Italia after stage one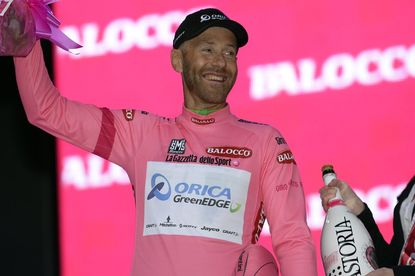 (Image credit: watson)
Canadian Svein Tuft felt a dream come true this evening in Belfast when he put on the Giro d'Italia's pink jersey. His Orica-GreenEdge team won the opening time trial and let him cross the line first for the eventual prize.
"It's really a dream come true for a guy like me, it's a once and a lifetime experience," Tuft said. "I'm really thankful to my team for that gift."
The second team to start, Orica blasted through the city's street in a time of 24-42 minutes. They held the top spot for the next hour as the rest of the teams rode. Only BMC came close to their time, just seven seconds behind for second place.
Ahead of the race, Sports Director Matt White had decided that Tuft should cross the line first. The decision would give the 37-year-old Canadian the chance to wear the pink jersey if they were to hang on for the stage victory.
"White said, 'If we are on a good one, Svein goes over the line first," Tuft explained.
"Why me? It was really a gift, team time trial is something that I focus on and that take a lot of pride in. I've dedicated a lot of time to this event. It was a gift in return for my dedication."
Tuft helped the team to the Tour de France's time trial last year in Nice and two months later, a silver medal at the World Championships in Florence.
In Belfast, Tuft had the help of eight team-mates: Michael Hepburn, Brett Lancaster, Michael Matthews, Luke Durbridge, Cameron Meyer, Mitchell Docker, Pieter Weening and Ivan Santaromita. Lancaster, Hepburn and Docker pulled off prior the finish line, where the organiser takes the time of the first five riders.
"We came in with big expectations obviously because our team is designed around the team time trial with Durbridge, Cam Meyer... The list goes on," Tuft said.
"The wind was never coming from one way, always blustering, it made for a difficult time, a dangerous parcours on narrow roads. You can never overlap the wheels out there because, as you saw with Garmin, one mistake and you pay. We do drill to be ready to win."
Tuft will take the pink jersey into tomorrow's road stage, starting and ending in Belfast with a run along the island's northeastern coast. The ride should allow Tuft's pink experience to settle in. It could be a short one, too, because Matthews can sprint and with bonus seconds, he could share his team-mate's dream.
Orica-GreenEdge's Svein Tuft takes race lead in Belfast as Dan Martin crashes out
Thank you for reading 5 articles this month* Join now for unlimited access
Enjoy your first month for just £1 / $1 / €1
*Read 5 free articles per month without a subscription
Join now for unlimited access
Try first month for just £1 / $1 / €1