Handley wins Circuit of the Dales TT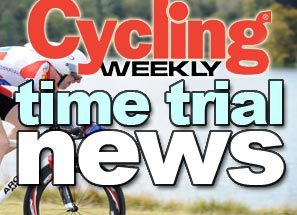 Rapha-Condor-Sharp's Richard Handley won the Circuit of the Dales in Yorkshire on Sunday, covering the shortened 49-mile Ingleton to Hawes circuit almost three minutes quicker than his nearest rival.
Handley, 22 and from Warrington, clocked 1-55-38 while veteran Andy Wilkinson (Port Sunlight Wheelers) was second with 1-58-23, and Derek Parkinson (Drag2Zero.com) was just a second further back in third spot.
The event had to be shortened by almost two miles because of roadworks on the course - but that was just the beginning of the problems for the event organisers.
A second set of roadworks appeared on the eve of the event, and although riders could navigate them with relative ease, another problem ruined many riders' hopes.
There was a sportive in nearby Sedburgh, and their direction signs caused many of the time triallists to go off course.
In Cambridgeshire, prolific time trial winner Michael Hutchinson (In Gear-Quickvit) broke the course record for the E33/25 in the Veterans TTA (East Anglia) 25-mile event at Stetchworth.
His time of 49-35 was quickest by almost seven minutes, while top veteran - and also second fastest overall - was Peter Balls (West Suffolk Wheelers) who clocked 56-24 for a +10-37.
National hill-climb champion Gunnar Gronlund (RST Racing Team) won the Birdwell Wheelers 10-mile event at Hatfield Woodhouse in South Yorkshire, clocking 20-58 to win by 18 seconds from Kent-based Seth Kay (Datateam Allstars).
Another prolific hill-climb winner, Oxford-based Tejvan Pettinger (Sri Chinmoy CT), won the Otley CC 10-mile event in North Yorkshire. He clocked exactly 21 minutes to win by 16 seconds from Mark Wolstenholme (Team Swift).
Also racing over 10 miles was evergreen Ian Cammish, the former British Best All-Rounder, whose time of 22-34 for the Wisbech Wheelers' event at Walsoken in Cambridgeshire was just two seconds quicker than Gary Rushmore (Kings Lynn CC) in second.
Elsewhere, Poole Wheelers' Gary Dighton won the East Dorset CA 24-mile hilly at Wimborne in 54-17, 42 seconds faster than VC St Raphael's Simon Berogna.
And in Suffolk, Glenn Taylor (Shorter Rochford) was fastest in the Stowmarket and District CC 20 at Debenham, clocking 46-05 to win by 1-01.
North of the border, Silas Goldsworthy (Sandy Wallace Cycles) won the Gordon Arms Mountain time trial at Selkirk. He covered the 22-miles of beautiful borders country in 51-12 to win by 11 seconds from team-mate Alan Thompson.
Finally, in Kent Team Swift's Steve Berry won the De Laune CC 10 at Grain with a time of 20-31 to win by 43 seconds from PM Racing's Gary Record.
Related links
Time trial news section