Hutchinson and Shaw take National 25 titles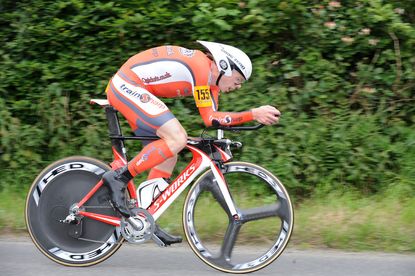 British national 25-mile time trial gallery by Andy Jones>>
A badly-unshipped chain couldn't stop Michael Hutchinson from claiming his fifth National 25 title on a hilly course around Holsworthy on Sunday afternoon.
The mechanical incident left Hutchinson stopped for roughly twenty seconds, "fannying about at the side of the road", in his own words. In the end, he had the composure and time in hand to beat closest challenger Matt Bottrill by 36 seconds.
His time of 53-36 - the slowest National 25-winning mark since 1987 - was also a measure of the difficulty of the Devon course, which was met with pleasure by most of the top testers.
Forget soulless dual carriageways: this event was markedly different to traditional RTTC national championship fare. There was a prologue-style start ramp in Holsworthy's quaint town centre, with a crowd gathered and a jazz band playing just behind.
It gave some nice atmosphere to the event, while the sporting course on the heavy Devon roads made for slower times and different faces in the upper reaches of the results.
Hutchinson's hurry
Having been thirty seconds up at the turn, the incident at the seventeen-mile mark had Hutchinson fighting to keep his advantage and his cool. "It's experience," he said. "I try and stay calm. It's one of those things, having not won the 10, you're putting yourself under a little more pressure."
He continued: "I knew I was going faster than everyone else. All I need to do is keep doing what I was doing, everything should be fine."
In the end, he was, finishing ahead of Matt Bottrill (I-Ride.co.uk). "I'm pleased, I couldn't have done any more," Bottrill said. "The course suited me down to the ground," he added, exorcising his own demons from last fortnight's National 10, where nerves got the better of him and he rode to fifth.
National U23 champion Andrew Griffiths (Twenty 3C) Orbea was a new face on the podium, taking his first elite RTCC time-trial medal, a further dozen seconds in arrears.
Chapeau to consummate all-rounder Wouter Sybrandy too, who finished ninth at the eight-day Ras, rode a Tour Series criterium and placed fifth here, all in the space of a week.
Shaw's flying victory

In the women's event, Julia Shaw (www.drag2zero.com) had no such encumbrance, defending her title by beating Chrissy Radon (Team Zappi's) into second, by 3-15, and Jane Kilmartin (Cult Racing).
"This is a more extreme course, probably one of the most sporting 25s I've ever done for a national championship," she said.
"I'm quite a big rider, I don't necessarily think this is a great course for me, but I seem to have done all right today."
Clocking 59-20, Shaw was the only woman to go under the hour, testament to the course's difficulty.
Mullen and Barnes-storming rides
Sixteen-year-old Ryan Mullen (Planet X) added the '25' title to last fortnight's shorter mark.
"At the turn, my tyres were still wet from the rain, and at the turn, I went a bit sharp and could feel it rolling a bit. As the visor misted, I hit a stick in the middle of the road, that certainly worried me a bit," he said.
It makes the six-hour schlep back to his North Wales home a lot sweeter, where he'll face sterner examinations - literally - in the form of a couple of A Levels this week.
Oliver Rossi (PCA Ciclos Uno) placed second, with Luke Grivell-Mellor rounding out the podium.
Meanwhile, Hannah Barnes (Motorpoint) was the sole junior woman competitor, but the 18 year old's time of 1-03-49 wouild have gained her a podium place in the elite women's competition.
"I like a flat dual carriageway, so I was pleased with the time, especially the fact that I would've come third with the women," Barnes said.
Results

RTTC National 25 Championship, Holsworthy, Devon
1. Michael Hutchinson (In Gear-Quickvit-Trainsharp RT) 53-36
2. Matthew Bottrill (I-Ride.co.uk) at 36secs
3. Andrew Griffiths (Twenty 3C-Orbea) at 48secs
4. Nicolas Hutchings (CS Grupetto) at 1-07
5. Wouter Sybrandy (Sigma Sport) at 1-26
6. Peter Tadros (In Gear-Quickvit-Trainsharp RT) at 1-37
7. Adam Duggleby (Science in Sport.com) at 1-45
8. Jeff Jones (Chippenham & District Wheelers) at 2-18
9. Richard Simmonds (The Altitude Centre) at 2-49
10. Pete Vincent (Mid Devon CC) at 2-58
Elite women
1. Julia Shaw (www.Drag2Zero.com) 59-20
2. Chrissy Radon (Zappi's Cycling Club) at 3-15
3. Jane Kilmartin (Cult Racing) at 4-49
4. Lynn Hamel (Herbalife-Wheelbase) at 5-04
5. Michelle King (Team Jewson MI Racing) at 5-09
6. Ciara Horne (Cult Racing) at 5-45
Juniors

1. Ryan Mullen (Planet X) 56-16
2. Oliver Rossi (PCA Ciclos Uno) at 27secs
3. Luke Grivell-Mellor (Mid Shropshire Wheelers) at 51secs
4. Germain Burton (Team De Ver) at 2-24
5. Sam Connolley (Glendene CC) at 2-26
6. Jake Alderman (One & All Cycling) at 2-44
Junior Women: Hannah Barnes (Motorpoint) 1-03-49
Hannah Barnes, junior women's winner
Julia Shaw, women's winner
Ryan Mullen, junior men's winner
Michael Hutchinson, men's winner
Related links

British national 25-mile time trial gallery by Andy JonesBritish time trial round-up (June 5)
Thank you for reading 20 articles this month* Join now for unlimited access
Enjoy your first month for just £1 / $1 / €1
*Read 5 free articles per month without a subscription
Join now for unlimited access
Try first month for just £1 / $1 / €1