Hutchinson wins sixth National 100 title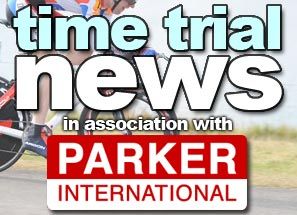 Rain, hail and strong winds caused 28 non-finishers in the National 100-Mile Championships in North Yorkshire on Saturday, but it appeared to make little difference to the respective winners.
Defending champion Michael Hutchinson (In Gear-Quickvit) secured a sixth title - and a third consecutive win - when he clocked 3-24-45 to win by almost eight minutes and come within exactly two minutes of competition record on a day where water wings might've been more useful than aero bars.
And London's Rebecca Slack (The Altitude Centre) notched up her first national victory in the women's event, covering the distance in an impressive 4-03-37 to win by more than eight minutes.
The hail was so bad that Hutchinson missed the first turn, but he made light of the problems, saying: "It rained once or twice, but my ride was fine and I rode a consistent pace and was gaining time throughout.
"I did miss the first turn because of the hail as I couldn't see the marshal, and I thought it was the turn before the turn. I had to stop and run back down the verge and get back on track, and I probably lost about a minute, but it was fine really."
But while for Hutchinson it was just another day at the office, for women's winner Rebecca Slack (The Altitude Centre) the win was very much a first.
"I woke up on Sunday and thought it was all a dream until I saw the champions cap on the breakfast table," she said. But it could've been very different.
"After 26 miles my chain came off. I pulled over and couldn't get it back on because it was in a real tangle," she added. "It was a bit like a Krypton Factor challenge! I tipped my bike upside down to get the chain back on, but all my nutrition products scattered all over in the grass.
"I probably lost about a minute and a bit, but as I was riding without any support I had to stop at the top and bottom of the course to pick up bottles I had planted there beforehand."
Slack, 44 and from Wandsworth, was using narrow cranks similar to the ones Andy Wilkinson uses, and she explained: "They make you more efficient and it really comes into its own at longer distances. That's really helped me this season because I haven't been fatiguing so much
"I was pretty thrilled to win by so much as there were some quality riders in the field, but it Julia [Shaw, reigning champion] had been there she would've destroyed me!"
Slack dedicated her victory to Twickenham CC official and popular cycling figure Dave Peck, who recently died in a cycling accident in France.
She added: "It was his funeral on Friday and I couldn't make it as I was driving up for the National Champs, so I dedicate my win to him."
Results

Men

1. Michael Hutchinson (In Gear-Quickvit) 3-24-45
2. Julian Jenkinson (UTAG Yamaha.com) 3-32-41
3. Stephen Whitewick (UTAG Yamaha.com) 3-33-28
4. Kevin Dawson (Sportscover) 3-35-43
5. Nik Bowdler (Team Pedal Revolution.co.uk) 3-37-41
6. Derek Parkinson (Cleveleys RC) 3-38-06
7. Andy Bason (Team Pedal Revolution.co.uk) 3-39-11
8. Colin Humphrey (Sportscover) 3-40-07
9. Joel Wainman (Team Swift) 3-40-09
10. Adam Topham (High Wycombe CC) 3-40-46
Team.- Team Pedal Revolution.co.uk.
Women

1. Rebecca Slack (The Altitude Centre) 4-03-37
2. Christine McLean (Shetland Wheelers) 4-11-54
3. Ruth Bradbrook (BAD Tri Bike Science) 4-12-46
4. Lynne Taylor (Born to Bike) 4-14-51
5. Claire Day (Born to Bike) 4-20-56
6. Louise Collins (TFN Tri Club) 4-21-49
7. Jill Wilkinson (Port Sunlight Wheelers) 4-27-56
8. Theresa Taylor (Preston CC) 4-36-34
9. Nicky Xandora (Banbury Star CC) 4-37-26
10. Clare Ella (Born to Bike) 4-39-44
Team.- Born to Bike.
Related links
Cycling Weekly's Time Trial News section
Thank you for reading 20 articles this month* Join now for unlimited access
Enjoy your first month for just £1 / $1 / €1
*Read 5 free articles per month without a subscription
Join now for unlimited access
Try first month for just £1 / $1 / €1