'If I could select an under-23 development system, I'd go with America's not Britain's'
Team Sky's American Ian Boswell says that the American development system teaches young riders to be adaptive and independent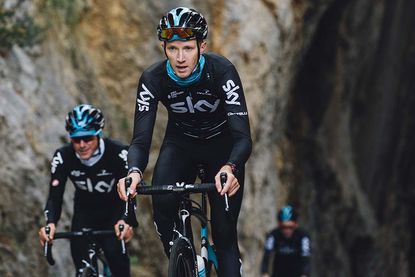 (Image credit: Daniel Gould)
American Ian Boswell is starting his fifth season with Team Sky. Enough time has passed for him to know his team-mates like Geraint Thomas and Peter Kennaugh, and the British programme they developed in. He says, however, if he could have it his way, he prefers the United States's under-23 system.
Boswell rode for Axel Merckx's Bontrager Livestrong development team, now Axeon Hagens Berman, and with USA Cycling for select races. After a trial period with Argos-Shimano, now Sunweb, Sky signed him for the 2013 season.
"If I could select a system, I'd select the one that I came up in," Boswell told Cycling Weekly.
"The way it is with US cycling, you are kind of independent. Like figuring out where you're going to live in the winter, which I needed to do that because I come from Oregon where it's too cold. Then going over to Europe, I learned a lot of lessons.
"The British riders are develeped in a very well-funded and supported system. If they go to a French or Italian WorldTour team, they'd find many changes in the structure. It's all different. With the American system, I learned how to be adaptive, how to live on my own and to make sure I look after myself."
>>> Ian Boswell handed chance to lead Team Sky in Tour of California
In 2012, Sky's then race coach Bobby Julich recommended Boswell to Team Sky after following his progress. Boswell placed second in the amateur Liège-Bastogne-Liège, fifth in the Tour of Utah racing against professionals and fifth in the prestigious Tour de L'Avenir stage race.
He went from winning his first race on his mum's road bike at age 11 to racing with the US development team and living in Belgium for a year.
"USA Cycling is trying to get as many riders to Europe as possible, coming over for just two weeks or short stage races. And the cream will rise to the top," Boswell said.
"In the British cycling, they seem to have more funding. They only take 10 kids, but those 10 are well looked after. They live together, race the Nations Cups, the big races. It's more hands on. In the US, you have your own team and try to make the national team selection for the Tour de L'Avenir or Giro della d'Aosta."
Watch: Ian Boswell during the 2016 Giro d'Italia
Teams like Merckx's, based in Golden, Colorado, share race schedules and expenses with the national federation. Boswell said that for him and many others, it's a win-win situation.
"There's good communication between the teams. And the dollar stretches a lot further," Boswell said. "That makes it easier for both teams. It gives the riders more race days, too. Otherwise it's hard to get 50 race days for an U23 rider."
Boswell is based in Nice, France. He is racing already in the Dubai Tour and preparing for a chance to lead Sky in races like the Tour of California this May.
He laughed when he recently read the WhatsApp messages from top American under-23 cyclists Adrien Costa and Will Barta. They were in Nice, but turned down his offer to train together.
>>> Inside the talent factory team that has produced dozens of WorldTour riders
"It's a change in that sense in that they are focused on their programmes. When I was a under-23 rider, if a rider from BMC Racing or HTC-Highroad asked me to ride, I would say, 'Sweet! I'll go! This is an opportunity to ride with a WorldTour rider.'
"Now, I'm really focused, training with power, but then, I was just cycling. Now, it's very science-driven across the board whether it's a WorldTour or under-23 rider, or even a junior rider.
"Many of the U23 riders are more focused in a stressful way than WorldTour riders because they're still trying to make it and still chasing the dream, which is different for the WorldTour riders. I am already in the dream now. Now, I am focused on my career and my life, trying to get the most out of myself."
Boswell is impressed with their drive and is anxious to see how the next generation comes through. He said he is keeping an eye on the progress of Costa, second in the Tour of Utah, third in L'Avenir and Tour de Bretagne winner, and Neilson Powless, Avenir stage and Tour of California youth classification winner.
"In that age group there a lot of good riders who are up and putting in getting good results," added Boswell. "Those riders coming up push American cycling to another level."
Thank you for reading 20 articles this month* Join now for unlimited access
Enjoy your first month for just £1 / $1 / €1
*Read 5 free articles per month without a subscription
Join now for unlimited access
Try first month for just £1 / $1 / €1