Jody Cundy takes 14th world title as British team enjoy Para-cycling success in Rio
Two gold medals for GB team at the 2018 Para-cycling World Championships in Rio de Janeiro, as Jody Cundy and Katie Toft claim world titles - Photos by SW Pix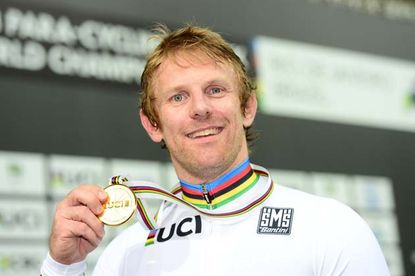 (Image credit: Simon Wilkinson/SWpix.com)
Jody Cundy won the men's C4 1km time trial event on the opening day of the 2018 Para-cycling World Championships in Rio de Janeiro to take his 14th world title.
Cundy has dominated the discipline, and his latest success continues a remarkable unbroken run of world titles since 2006.
"It may be my 14th jersey, but the feeling is just as good pulling this one on as the first. Thank you to everyone who helped me in the process," Cundy said via Twitter.
While Cundy racked up his 14th rainbow jersey, fellow British rider Katie Toft took her first – and in her debut in the event.
Toft claimed the victory in the women's C1 Individual Pursuit, beating Jieli Li of China to take the title.
There was more medal success for Great Britain in the individual pursuit, as Megan Giglia took silver in the women's C3 individual pursuit as Denise Schindler of German took gold.
Jon-Allan Butterworth and Blaine Hunt also added to Britain's medal tally with silver and bronze medals in the men's C5 1km time trial. Spain's Alfonso Llamas Cabello took the top honours.
>>> Sarah Storey withdraws from Para-cycling track world champs due to yellow fever outbreak in Rio
The 2018 Para-cycling World Championships takes place in the velodrome that hosted the 2016 Olympic and Paralympic Games in Rio, and runs from Thursday, March 22, to Sunday, March 25.
Team GB at the 2018 Para-cycling World Championships
Women
Lora Fachie (piloted by Corrine Hall)
Megan Giglia
Crystal Lane-Wright
Sophie Thornhill (piloted by Helen Scott)
Katie Toft
Men
James Ball (piloted by Pete Mitchell)
Steve Bate (piloted by Adam Duggleby)
William Bjergfelt
Jon-Allan Butterworth
Jody Cundy
Neil Fachie (piloted by Matt Rotherham)
Blaine Hunt
Jon Gildea
Louis Rolfe
Jaco van Gass
Ben Watson
Thank you for reading 5 articles this month* Join now for unlimited access
Enjoy your first month for just £1 / $1 / €1
*Read 5 free articles per month without a subscription
Join now for unlimited access
Try first month for just £1 / $1 / €1