John Degenkolb hopes to learn from watching Classics on TV ahead of May return
John Degenkolb is confident he can still have a successful 2016 and hopes he can learn something new about Paris-Roubaix by watching it on TV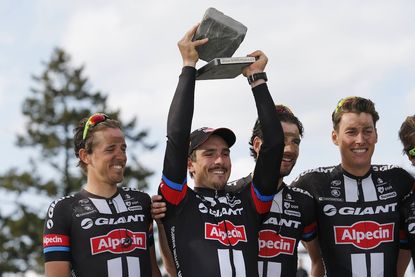 (Image credit: Yuzuru SUNADA)
John Degenkolb will have to settle for watching this Sunday's Paris-Roubaix on TV, as the 2015 champion continues his recovery from the training crash in January that left him and five Giant-Alpecin teammates nursing severe injuries.
Degenkolb came off by far the worst of the six, suffering injuries to his thigh, forearm and lip, with a finger on his left hand virtually severed, requiring an operation by a specialist surgeon to save it.
Following the crash, the German sprinter resigned himself to missing the entire Classics season, posting on his Facebook page in February that the damaged finger on his left hand was taking the longest to heal, but Degenkolb sounded optimistic about the rest of his season at a press conference on Friday.
>>> How does John Degenkolb's injury affect Giant-Alpecin's season goals?
"I hope to return in May," Degenkolb said, "but there is still much work to be done."
He added: "I'm glad I got back on my bike. I can set goals again, work towards a good condition, but there is still a long way to go. If you are off the bike for a long time, you have to build that condition from scratch."
Degenkolb had the last of five operations just six weeks ago as he continues his slow return to full fitness but, despite clearly being keen to get back to competitive cycling, the German understands he has to take things one step at a time.
>>> Paris-Roubaix live TV guide
"I have five operations behind me and the finger requires a lot of rehabilitation," he said. "The nerves are affected. My co-ordination on the bike is not quite right. Braking, changing gear, it is not easy. This requires more time.
"I feel safe on the bike, I have no fear, but at the moment I do not feel ready to get back in the peloton. The risk would be too great because my coordination is just not good enough. Once that feeling is back, I think I can return."
Degenkolb confessed that missing the Classics season was a bitter pill to swallow, especially considering he was injured in such unfortunate circumstances, but is determined to take the positives from the situation.
>>> 'John Degenkolb must think of his health before his career'
Degenkolb hopes he can see the race from a different perspective when he watches Paris-Roubaix on TV this Sunday ahead of an attempt at winning a stage at the Tour de France - the only Grand Tour in which he hasn't won a stage - in July this year.
"In the beginning, it was hard to accept [missing the Classics]," Degenkolb said. "I have watched all the Classics on television and that's quite interesting, you always see things you can learn something from. I have now set new targets."
Thank you for reading 20 articles this month* Join now for unlimited access
Enjoy your first month for just £1 / $1 / €1
*Read 5 free articles per month without a subscription
Join now for unlimited access
Try first month for just £1 / $1 / €1