Jonathan Tiernan-Locke: 'Cycling's just a hobby now'
Riding for his own team, Saint Piran, the 31-year-old is content just riding UK races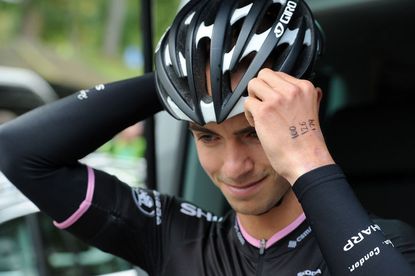 Jonathan Tiernan-Locke insists that he races to appease his love for cycling, and that he has no intentions of attempting to gain a professional contract in the future.
The Plymouth-born rider's two-year doping suspension lapsed at the end of 2015 and he made a comeback to racing in February when he finished second at the Primavera Road Race.
Initially upset by the category two licence awarded to him by British Cycling, the former Team Sky rider has ridden seven events since his return, winning one race - the Modbury Spring Road Race, a regional A event in South Devon.
In more high profile events, Tiernan-Locke - riding for his team Saint Piran - finished sixth overall at the Totnes-Vire and 28th in last Sunday's Manx International GP.
Winning races to attract the attention of bigger teams, however, is not his ambition. "Last week at the Isle of Man was the heaviest I've ever raced at – I was nine kilograms heavier than what I was," he told Cycling Weekly.
"When I looked at my power afterwards, I was only 30 seconds down on the front group but I was putting a lot more watts out.
"I knew that would be the case but I'm realistic that it's a hobby these days, I'm getting by on 10 hours a week training. Realistically, I'm riding at a good level and I'm happy with that."
Tiernan-Locke is juggling his property management business, developing Saint Piran into the development and feeder team he wants it to be, alongside his training.
Disc brakes: what's the thoughts of the pros?
He added: "This year's been so busy, I have a lot of other things going on. I've had to count every minute of every day for the last six months.
"Including both races (Manx International and this weekend's Tour of Reservoir) it's about 10 hours [of training] this week which is poor but it's all I can give it.
"Last year, I hadn't touched a bike for a year and I thought 'hang on, why wouldn't I go back to racing? I do like it'.
"I have mixed feelings – I don't want it as a job again, that's a big step up going from what I'm doing at the moment.
"I'd be going from riding for 10, 13, 15 hours a week on the bike when I wanted to, to going out with numbers on my stem, riding to hurt myself.
"I can get round with my fitness I've got, be slightly competitive and win races and enjoy it. I'm sure I'll get a few more wins down the line."
Thank you for reading 5 articles this month* Join now for unlimited access
Enjoy your first month for just £1 / $1 / €1
*Read 5 free articles per month without a subscription
Join now for unlimited access
Try first month for just £1 / $1 / €1