Jonathan Tiernan-Locke unhappy after being given second category race licence
British Cycling give Jonathan Tiernan-Locke a second-category racing licence on his return from doping ban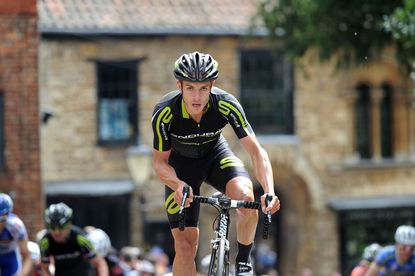 Former professional Jonathan Tiernan-Locke has been given a second category racing licence by British Cycling as he makes his comeback to the sport after serving a doping suspension.
The Devon rider, who rode for Team Sky and Endura before his two-year ban, is unhappy with the decision to give him a second cat licence, as he was hoping to re-enter racing at a higher level.
Talking to the Torquay Herald Express, the 31-year-old said: "I know these things can be discretionary, and I haven't been allowed to ride for two years. But I held an elite licence every year I raced since 2003, so I think BC might give me at least a first cat one now."
"It would be a bit petty if they make me start as a second cat, and I would be concerned if they stick to it because that might make it more difficult for me to get into national races, especially early in the season," he said.
>>> Jonathan Tiernan-Locke banned for two years, loses 2012 Tour of Britain title
Tiernan-Locke is due to make his return to racing at the Primavera Road Race on Sunday, February 28. He is hoping that BC will upgrade the licence before the event.
Tiernan-Locke was banned from riding for two years, until December 31 2015, for anomalies in his anti-doping biological passport relating to samples taken in 2012.
He was also stripped of the 2012 Tour of Britain victory and sacked by Team Sky. Sky had signed Tiernan-Locke for 2013 on the strength of his 2012 season, where he also won the Tour Alsace and Tour du Haut Var.
Tiernan-Locke has always maintained his innocence, and blamed the adverse anti-doping test result on a night of drinking. He appealed against the suspension to UK Anti-Doping, but this was overturned.
Although it is rumoured that several teams have expressed an interest in having Tiernan-Locke ride for them in 2016, he will take part in the Primavera Road Race as an independent rider.
Thank you for reading 20 articles this month* Join now for unlimited access
Enjoy your first month for just £1 / $1 / €1
*Read 5 free articles per month without a subscription
Join now for unlimited access
Try first month for just £1 / $1 / €1