Tiernan-Locke turns down pro team offers but may race for himself in 2016
Banned cyclist Jonathan Tiernan-Locke claims he has turned down offers from professional teams but may race as a 'one-man band' next season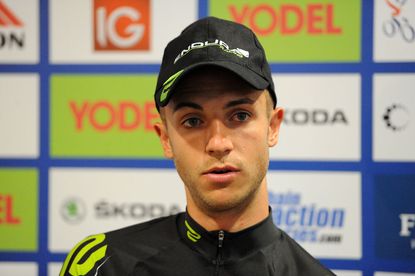 Jonathan Tiernan-Locke says he may race for himself in British races in 2016, when his two-year ban expires, having reportedly turned down offers from professional teams.
The Plymouth-based cyclist was banned after an the discovery of irregularities in his biological passport - which Tiernan-Locke puts down to a drinking session before the World Championships in 2012.
As a result, Team Sky terminated his contract and his appeal to UK Anti-Doping failed to overturn the ban.
>>> Jonathan Tiernan-Locke handed driving ban
According to his local newspapers, One Pro Cycling were one of the teams interested in offering Tiernan-Locke a chance to resurrect his career (although One have denied this), but the Devonian says he may enter British races as a solo rider next year.
"I have talked to several teams and had some offers – some interesting and some that I might have considered at 21, but not now," he told the Torquay Herald Express.
"There are other options. There are some very good personal sponsors prepared to help me.
"So I might do something a bit different and ride as a one-man band. I did it before, early in my career, and it worked for me then."
He added: "I believe I can still get to the level I was before, but I may not be able to live the life of a full-time pro."
Tiernan-Locke chose not to take an appeal against his ban to the Court of Arbitration for Sport, but has insisted throughout his ban that the testing and disciplinary process are flawed.
The Herald Express claims Tiernan-Locke will ride the two-day Totnes-Vire race in his home county next spring, but whether he'll be alone or part of a team is yet to be decided.
Thank you for reading 20 articles this month* Join now for unlimited access
Enjoy your first month for just £1 / $1 / €1
*Read 5 free articles per month without a subscription
Join now for unlimited access
Try first month for just £1 / $1 / €1