Dave Brailsford defends Team Sky over Jonathan Tiernan-Locke
Team Sky principal Dave Brailsford defends his team's handling of Jonathan Tiernan-Locke after rider handed two year suspension by UCI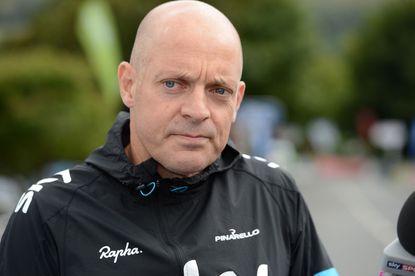 Team Sky principal Sir Dave Brailsford has defended his team following the confirmation of a two year anti-doping suspension for former rider Jonathan Tiernan-Locke.
Tiernan-Locke's contract with the team was terminated with immediate effect following the publication of the judgement on the UCI website and Brailsford believes the British team has handled the situation correctly.
"I think the way that we've dealt with it has been good, it's quite clinical and it's clear," Brailsford said following stage 12 of the 2014 Tour de France.
"And it sends a message; everybody knows that if they want to come to Team Sky then they know very well what our stance is. He [Tiernan-Locke] knew what our stance was, he came in there all the same, and his contract has been terminated."
Tiernan-Locke underwent a disciplinary procedure after anomalies were found in his biological passport relating to the 2012 season, when he was riding for the Endura team.
Brailsford defended Sky's decison to recruit Tiernan-Locke ahead of the 2013 season, stressing that there was nothing to suggest to him that the rider had continued to violate anti-doping legislation while on Team Sky and that the team had since bolstered its attention to potential anti-doping violations.
Team Sky rider Sergio Henao was removed from competition earlier this year after questions were raised following the team's internal out of competition tests.
"He [Tiernan-Locke] didn't cheat with us, he cheated before he got here, but there is no place for cheats in our sport," he continued.
"What we have done since is we stopped and we very much have looked at our governance, we've got a new governance and compliance officer," he added. "We scrutinize all the information we've got and our monitoring I'd say is second to none. That's the learning from it."
Tiernan-Locke told Cycling Weekly in late 2012, after he had signed for Team Sky, that he had attended one training camp with Sky in Tenerife in April 2012 after turning down an offer to ride for the team following his winning ride at the Tour of the Med.
Brailsford confirmed that Tiernan-Locke had attended one Team Sky training camp during the 2012 season prior to joining the team, saying: "he might have come to one training camp just so we could see him basically."
However he refused to respond when one reporter suggested that Tiernan-Locke had been on several camps with Team Sky in 2012 prior to signing, turning away from journalists and walking onto the team bus.
Team Sky terminates Jonathan Tiernan-Locke's contract after anti-doping suspension confirmed
UKAD confirm delay of long-running case following a request from the 2012 Tour of Britain winner.
Union Cycliste Internationale requests disciplinary procedure against Jonathan Tiernan-Locke on basis of anti-doping violation
Thank you for reading 20 articles this month* Join now for unlimited access
Enjoy your first month for just £1 / $1 / €1
*Read 5 free articles per month without a subscription
Join now for unlimited access
Try first month for just £1 / $1 / €1