Jonathan Tiernan-Locke banned for two years, loses 2012 Tour of Britain title
Team Sky terminates Jonathan Tiernan-Locke's contract after anti-doping suspension confirmed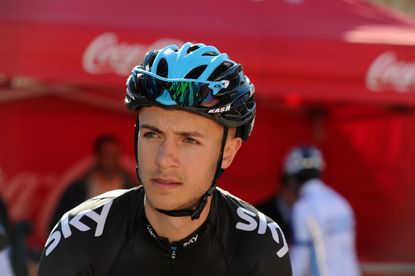 Jonathan Tiernan-Locke has been banned from competition for two years and stripped of his 2012 Tour of Britain title on the grounds that he violated anti-doping rules.
The Union Cycliste Internationale (UCI) confirmed the ban on Thursday in a statement: "The Union Cycliste Internationale (UCI) confirms receipt of the United Kingdom National Anti-Doping Panel's decision on the Jonathan Tiernan-Locke case. A two-year ban was imposed on the rider as a result of his anti-doping rule violation based on his Athlete Biological Passport. He is declared ineligible until December 31, 2015 and disqualified from the 2012 Tour of Britain and the 2012 UCI Road World Championships, competitions during which abnormalities were clearly identified."
In December 2013 it was announced that Tiernan-Locke would undergo a disciplinary procedure after anomalies were found in his biological passport relating to the 2012 season, when he was riding for the Endura team. Sky signed Tiernan-Locke for the 2013 season.
Sky initially suspended Tiernan-Locke in September 2013 following the announcement that he would face an anti-doping disciplinary procedure. The British WorldTour team issued a statement on Thursday afternoon stating that Tiernan-Locke's contract with the team had been terminated.
"Jonathan's contract has been terminated today," said Sky team principal Dave Brailsford.
"Whilst there have been no doubts about his time with us, his doping violation - from readings taken before he joined this team - means there's no place for him in Team Sky. We've a well-known stance on anti-doping and our action is the inevitable outcome of a violation.
"This is a team that trains, races and wins clean.
UK Anti-Doping said they were unable to comment on Tiernan-Locke's case, with UKAD chief executive Andy Parkinson saying: "UK Anti-Doping can confirm receipt of the National Anti-Doping Panel's decision. The matter is subject to confidentiality restrictions imposed by the rules, and as such we are unable to provide further comment. This protects the rights of all involved. All anti-doping rule violations are published on our website at the conclusion of any appeal windows or appeal."
The 29-year-old from Devon is suspended until December 31 2015, and he becomes the first Sky rider to be banned under anti-doping rules.
Tiernan-Locke has consistently denied any wrong doing.
UKAD confirm delay of long-running case following a request from the 2012 Tour of Britain winner.
Union Cycliste Internationale requests disciplinary procedure against Jonathan Tiernan-Locke on basis of anti-doping violation
Endura Ltd, owner of Jonathan Tiernan-Locke's team during 2012, issues statement regarding the rider's biological passport anomaly
Team Sky rider Jonathan Tiernan-Locke has received notification from UCI that his blood values for 2012 potentially contain anomalies
Thank you for reading 5 articles this month* Join now for unlimited access
Enjoy your first month for just £1 / $1 / €1
*Read 5 free articles per month without a subscription
Join now for unlimited access
Try first month for just £1 / $1 / €1