Jonathan Tiernan-Locke's biological passport under scrutiny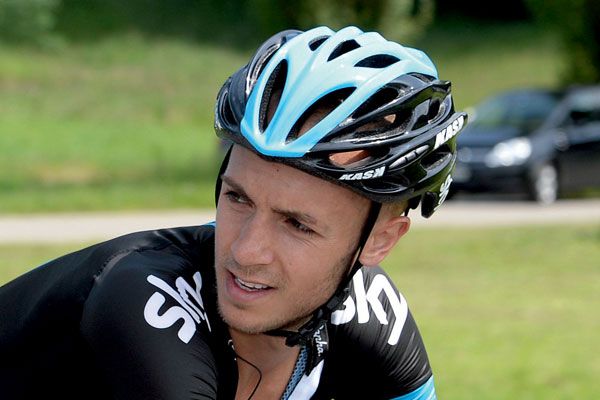 Team Sky rider Jonathan Tiernan-Locke has received notification from cycle sport's governing body, the Union Cycliste International (UCI), that potential anomalies have been found in his anti-doping biological passport.
Tiernan-Locke was due to ride for Great Britain in the 2013 World Championships men's road race but withdrew at the last minute citing lack of form. It now appears that the 28 year old has withdrawn himself from racing whilst attempting to clarify the situation with the UCI.
The anomalies in his blood values date back to 2012, when the Devon rider won the Tour of Britain for the Endura squad, before he signed to Sky for the 2013 season. UCI Continental-level team Endura were not part of the UCI's biological passport scheme, so it is results from individual test(s) taken in 2012 that have been compared to 2013's baseline figures for Tiernan-Locke.
In response to the notification, which was brought to public attention by the Sunday Times this morning, Sky issued the following statement:
The Sunday Times today published a story on Team Sky rider Jonathan Tiernan-Locke. In response to this, Team Sky has said:
"Team Sky has been informed by Jonathan Tiernan-Locke that the UCI has notified him of a potential discrepancy in his biological passport data.
"He has withdrawn from racing whilst his response to the UCI is prepared then considered by the UCI.
"We have no doubts over his performance, behaviour or tests at Team Sky and understand any anomaly is in readings taken before he joined the team.
"Team Sky has tried to respect what should be a confidential process, allowing the rider to explain in private, without prejudice, and the anti-doping authorities to do their valuable job.
"At this stage in the ongoing process we will not add any further detail."
The UCI's biological passport is a long-term system that charts an athlete's blood and urine values to highlight any irregularities that could indicate the use of banned performance-enhancing substances or blood doping.
Although Tiernan-Locke was not part of the biological passport system last season, blood values recorded during the 2013 season appear to differ from those in 2012.
After a breakthrough season in 2012 with Endura that saw him win the Tour of the Mediterranean, Tour du Haut Var, Tour Alsace as well as the Tour of Britain, Tiernan-Locke has struggled to find form and produce results citing fatigue and illness. He did not ride in this year's Tour of Britain to defend his 2012 win.
Related links
Tiernan-Locke out of World Champs