Jonathan Tiernan-Locke to face anti-doping disciplinary procedure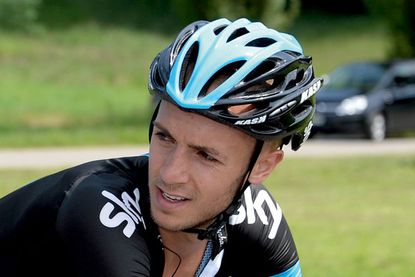 British Team Sky rider Jonathan Tiernan-Locke will face anti-doping disciplinary action after his biological passport data was found to contain anomalies.
Cycle sport's governing body, the Union Cycliste Internationale (UCI), issued a statement on Tuesday morning confirming that an "analysis of the biological passport of Mr Jonathan Tiernan-Locke by the Experts Panel has demonstrated an anti-doping rule violation (use of prohibited substances and/or methods)."
The UCI has asked that British Cycling commence disciplinary proceedings against Tiernan-Locke, and also confirmed that both UK Anti-Doping and the World Anti-Doping Agency had been informed of the action.
The news will come as a huge blow to the staunchly anti-doping Team Sky as Tiernan-Locke is the squad's first rider to face discipline for anti-doping rule infringements.
Team Sky issued a statement on Tuesday morning in reaction to the news, and confirmed that Tiernan-Locke will "not ride for Team Sky or take part in any team activities - including training camps and all team duties - until a decision is made in this disciplinary hearing process."
The team also said: "We understand that the violation was highlighted by an anomaly in his Biological Passport, in a reading taken before he signed for this team. There are no doubts about his approach or performance in Team Sky. This is a team that trains, races and wins clean."
Tiernan-Locke's management company, Trinity Sports Management, issued a statement soon after the UCI announcement:
"Mr Tiernan-Locke vehemently denies the charges brought against him and has informed the UCI that he fully intends to contest them. Mr Tiernan-Locke will not ride for Team Sky, attend training camps or undertake any team duties until a decision is made in these proceedings."
"Mr Tiernan-Locke is looking forward to a speedy and just resolution of these unfortunate charges. Until a decision has been reached, Mr Tiernan-Locke will make no further comment on the matter."
UK Anti-Doping director of legal Graham Arthur confirmed that it has been handed the Tiernan-Locke case for management: "We are progressing a case relating to a possible anti-doping rule violation. The matter is subject to confidentiality restrictions imposed by the Anti-Doping Rules, and as such we are unable to comment further. This protects the rights of all involved.
"All violations of the World Anti-Doping Code are published on our website if confirmed, when sanctions have been agreed and all appeal windows are over."
News broke in September that Tiernan-Locke had received notification from the UCI that potential anomalies had been found in his anti-doping biological passport. A spokesman for the UCI confirmed to CW that
the anomaly relates back to September 2012, when he won the Tour of Britain riding for Endura Racing. Previously Team Sky and
journalist David Walsh had suggested this, without confirmation. The Devon man has not raced since September.
UCI Continental-level team Endura were not part of the UCI's biological passport scheme, so it is results from individual test(s) taken in 2012 that have been compared to 2013's baseline figures for Tiernan-Locke.
In addition to the Tour of Britain win in 2012, Tiernan-Locke won the Tour of the Mediterranean, Tour du Haut Var and Tour Alsace. This year, Tiernan-Locke has struggled to find form and produce results citing fatigue and illness. He did not ride in this year's Tour of Britain to defend his 2012 win.
Related links
Tiernan-Locke's biological passport anomaly: former team issues statement
Jonathan Tiernan-Locke's biological passport under scrutiny
Thank you for reading 5 articles this month* Join now for unlimited access
Enjoy your first month for just £1 / $1 / €1
*Read 5 free articles per month without a subscription
Join now for unlimited access
Try first month for just £1 / $1 / €1