Jonathan Tiernan-Locke biological passport anomaly: Former team issues statement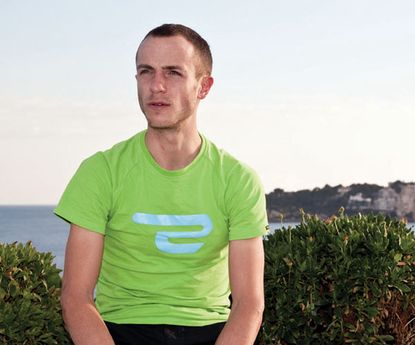 Endura Limited, owners of the Endura Racing Team during 2012, issued a statement on Tuesday in response to published information that the squad's former rider Jonathan Tiernan-Locke is under scrutiny for an anomaly in his anti-doping test results.
The Sunday Times published an article at the weekend revealing that Tiernan-Locke's biological passport and anti-doping test figures are being reviewed after an anomaly was detected in a sample taking during 2012 - when the Devon man was riding for Endura, and before he signed for Team Sky for the 2013 season.
"At this early stage, without detailed information, it would be inappropriate to speculate on the reasons for inconsistencies in JTL's biological passport data although it is known that there are many possible legitimate causes including fatigue and ill-health both of which we understand JTL has suffered from in the last year," said the statement published on Endura's website.
The statement reiterates Endura's anti-doping stance, and confirms that the team attempted to arrange extra anti-doping tests for its riders even though, as a Continental-level team, they were not part of the UCI's biological passport anti-doping system. It states that the team specifically put in a request to the UCI that Tiernan-Locke be placed on the biological passport scheme, a request turned down by the organisation.
"Endura, with the full support of JTL, also made a request to the UCI to be allowed to pay to have him put on a biological passport in order to counter the rumours of PEDs [performance enhancing drugs] that circulated after his wins in Tour Méditerranéen and Tour du Haut Var in early season racing during 2012; however, this request was refused by the UCI."
Endura also says that Tiernan-Locke was tested by the Garmin-Sharp and Sky teams during 2012, as part of those teams' interest in signing the rider. Neither squad reported any adverse findings in samples taken from Tiernan-Locke.
"JTL chose Endura Racing in 2012 in the full knowledge that the Team was committed to ensuring that its riders were all clean and that it had made efforts to provide additional scrutiny of its riders through UKAD. In April 2012, when presented with expressions of interest for many WorldTour teams, JTL chose to narrow his options to Team Garmin-Sharp and Team Sky, both of which have well documented zero-tolerance positions on doping."
Tiernan-Locke has a reported three weeks in which to assist anti-doping authorities in determining why the anomaly in his test results has occurred. During this period he is not racing, and withdrew from the Great Britain team for Sunday's world championships road race.
Team Sky itself issued a statement on Sunday after the article was published in the Sunday Times, in which it said: "We have no doubts over his performance, behaviour or tests at Team Sky and understand any anomaly is in readings taken before he joined the team."
"Team Sky has tried to respect what should be a confidential process, allowing the rider to explain in private, without prejudice, and the anti-doping authorities to do their valuable job."
Tiernan-Locke asked 'do you dope' in 2012
Cycling writer and presenter Ned Boulting interviewed Tiernan-Locke during his successful season in 2012, and asked him the unusually direct question: "Are you doing this clean, Jon?".
Tiernan-Locke replied: "Yes, one hundred per cent. I don't even supplement. I don't even believe in that stuff, it's just off my own back and training, doing all those little things... the lifestyle required to be a professional and get those extra per cent out that all add up. And obviously the massive one, losing a heap of weight."
"With the history cycling's had, people have got a right to speculate, and I know I have about riders in the past. And I genuinely believe now that cycling's cleaned itself up... and from what I've seen I don't believe it would have been possible to do what I've done now 10 years ago."
Related links
Jonathan Tiernan-Locke's biological passport under scrutiny
Thank you for reading 20 articles this month* Join now for unlimited access
Enjoy your first month for just £1 / $1 / €1
*Read 5 free articles per month without a subscription
Join now for unlimited access
Try first month for just £1 / $1 / €1