Jonathan Tiernan-Locke blamed biological passport anomaly on binge drinking session
Jonathan Tiernan-Locke claims in his defence against doping case that he drank over 33 units of alcohol in one night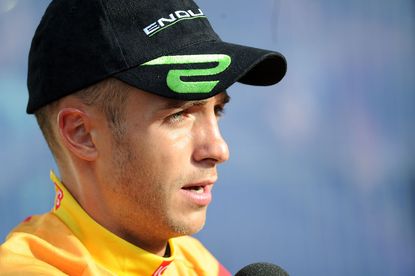 Jonathan Tiernan-Locke said that an anti-doping blood sample taken from him in September 2012 showed anomalies due to a heavy binge-drinking session in Bristol, during which he claims to have consumed over 33 units of alcohol.
The details of Tiernan-Locke's defence in his anti-doping case have been published by the UK Anti-Doping Agency as part of its decision against the former Team Sky and Endura rider.
News that Tiernan-Locke had been banned for two years due to abnormalities in his anti-doping biological passport data was announced in July. He was subsequently stripped of his 2012 Tour of Britain title and result from 2012 World Championship road race. He is ineligible to race until December 31, 2015.
Tiernan-Locke's anti-doping hearing took place over July 1-2 2014, with the decision on the case made on July 15. The violation related to a sample obtained on September 22 2012 - his first as part of the biological passport programme - whilst Tiernan-Locke was still riding for the Endura team but after he had been offered a two-year contract with Team Sky, on September 20. The day following the test, on September 23, he rode for Great Britain in the World Championships road race and finished 19th.
After taking further blood and urine samples from Tiernan-Locke over a five-month period and then comparing these values to the original sample, it was concluded by the UCI in September 2013 that the first sample had an abnormally high level of red blood cells (haemoglobin) and abnormally low level of reticulocytes (immature red blood cells). These factors are strong indicators of the use of banned blood booster EPO or blood transfusion.
Tiernan-Locke's defence, including expert evidence from Dr Kingsley Hampton, argued that he had taken part on a celebratory drinking session on September 20, two days before the test samples were taken, during which he consumed over 33 units of alcohol over a six hour period, including nearly two bottles of wine, and several glasses of gin and vodka.
Tiernan-Locke was accompanied by his girlfriend during the drinking session, but she could not recall the exact amount of alcohol that Tiernan-Locke had consumed.
Due to feeling unwell the following day as he travelled to Maastricht for the Worlds, Tiernan-Locke did not eat or drink sufficiently leading to dehydration, which it was claimed caused the abnormal blood values.
UK Anti-Doping threw out Tiernan-Locke's explanation, stating:
"Why a professional athlete suffering from a hangover and dehydration should not have drunk any amount of water over 32 hours is not easy to explain. His evidence was that he was well aware of the importance of keeping hydrated, but he says he felt unwell and feared that if he took water it would cause him to vomit. Yet on the morning of 23 September he says he felt back to normal, despite not having drunk any water the previous day, and was then able to train with the team for over three hours. His physical state on 23 September does not appear consistent with a state of severe dehydration.
"We have considerable reservations as to this evidence. We are unable to dismiss as implausible the evidence that Mr Tiernan-Locke did in fact imbibe a substantial amount of alcohol during the evening of 20 September. However we do not accept the evidence that he was in a state of severe dehydration when he gave the blood sample at 0830 on 22 September.
"It is inconceivable that a professional rider, selected for the first time to ride for his country at a senior level in the world championships, would not have ensured that by the time he arrived in the team hotel at Maastricht he was fit to race and had ensured that he had taken on sufficient water to deal with any hangover which he was still experiencing."
Acting for UKAD, Professors Schumacher and D'Onofrio studied Tiernan-Locke's and Dr Hampton's defence and responded that "There is no scientific evidence for a plasma volume reduction after alcohol consumption".
Team Sky principal Dave Brailsford defends his team's handling of Jonathan Tiernan-Locke after rider handed two year suspension by UCI
Team Sky terminates Jonathan Tiernan-Locke's contract after anti-doping suspension confirmed
UKAD confirm delay of long-running case following a request from the 2012 Tour of Britain winner.
Team Sky rider Jonathan Tiernan-Locke has received notification from UCI that his blood values for 2012 potentially contain anomalies
Thank you for reading 20 articles this month* Join now for unlimited access
Enjoy your first month for just £1 / $1 / €1
*Read 5 free articles per month without a subscription
Join now for unlimited access
Try first month for just £1 / $1 / €1